Members in Action
Wearing Our Witness
Vector Vuong
01/01/2017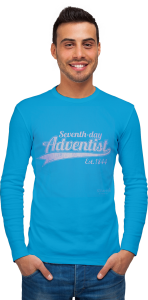 When we think of evangelism, many often think of a preacher doing an evangelistic series for several weeks. But not everyone may be able to attend these meetings; therefore, other forms are used for witnessing. The pioneers of our faith have always used a variety of methods to evangelize our unique message. One of the most common ways has been the distribution of literature through books, magazines, tracts, and small pamphlets. In our century, it has grown with the use of the Internet and media to further the advancement of the gospel. So many ways, so many methods to reach people. What about T-shirts? Yes, that is right, T-shirts are another great way to share our unique Adventist message. Imagine our doctrines, the sanctuary, the prophecy statue found in Daniel chapter 2, Bible prophecy beasts, the Sabbath truth, etc. displayed on a T-shirt! An average T-shirt is seen and read about 3,000 times before it gets worn out. So that means you're witnessing in simple way for anyone to see.
SDAshirts (ASI member) is a self-supporting ministry and small business run by one young man managing it all: designing, printing, packing, answering e-mails, etc. After working at a variety of jobs, he wanted to use his graphic design talent to do more for God's work instead of using it for companies he worked for. So wanting to further the Kingdom of God, he quit the corporate world. By faith, he started a T-shirt printing business to be a way to win more souls effectively. Currently, SDAshirts are being distributed in a few ABC bookstores and soon to be in our university campus stores. Vuong was also featured on an interview on Urban Report on 3ABN's Dare to Dream Network. Please support his journey!
Vuong came to USA at a young age with his family from Vietnam. After high school, he questioned about life and decided to study all of the world's religions. He was fascinated with the stories in each faith. By divine providence, his best friend shared with him an Amazing Facts Bible-study guide leading to biblical truths that made logical sense. Currently, he is the only Adventist Christian in his Buddhist family. He seeks your prayers for their hearts to find the beautiful truth about God.
He believes our unique Adventist messages displayed on shirts can be used as an effective witnessing tool for evangelism. Many souls have been converted through Christ for the Kingdom with this simple format of witnessing and sharing. We often get testimonies of how SDAshirts were used to start a spiritual conversation with strangers, gained a Bible study contact, teach a Sabbath school lesson, and more. Many of our designs display the unique Adventist doctrines and proclaiming the unique three angels' messages. So when someone reads your shirt, it is another seed planted in their mind for spiritual interest. Display your ministry everywhere you go! Check it out at www.SDAshirts.com