ASI Abroad
Training Chinese Waldensians
Christie Lee
01/01/2017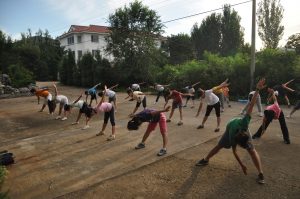 When I first went to visit this place in the fall of 2012, this missionary training program had been operating for about 12 years, but only recently had moved to its current location in Beijing. I was really impressed to see a handful of committed young people (mostly in their early 20s) working to train the youth. They were mainly Chinese, but there were some Koreans, and in 2014 we started sending some Americans. In 2013 their trained youth were selected to go to the Middle East as Waldensian students to reach out to the Muslims.
The most interesting and amazing fact about this location was that it had been first appropriated by the General Conference leaders and then later by the ASI leaders who wanted to develop a lay training program. But they were booted out by the local government and I am sure at that time they thought their efforts were lost or wasted. What I found different and right about this school was that it was first started with prayers. If any difficulties or issues arise, such as police coming to the school or arresting them, the first thing they do is to leave aside everything they are doing and pray. The prayer chain is formed quickly throughout the different countries, now even reaching the States. I was so impressed to see them act that way.
I had the privilege of meeting some of the pioneers of the missionary work over there at the last ASI annual convention. Their passion and love for the mission overseas was still alive in their hearts and when they heard about the school, I could see sparkles in their eyes.
I am sure they must have offered up countless prayers to God of the universe. He has surely responded and the mission work still goes on strong. Many local youth have been trained and now they are sent out to the remotest areas carrying the love that our Savior brought in person to each one of us.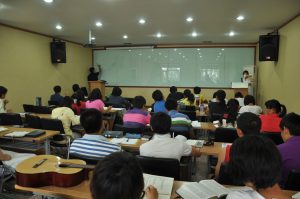 Their training is also very unique. The first semester the students learn Jesus, not just about Him but Himself engraved in their hearts. The textbooks are The Desire of Ages (DA) and the four Gospels. They learn one chapter a day of the DA and the related Bible texts. They memorize most of the chapter and they are tested every single day.
After learning about Jesus as the personal Savior who is with them every moment of their lives they do three things:
The Eighty-seven March (the marching is called 87 because of the 87 chapters of The Desire of Ages) during which they walk and meditate on Jesus for four days and three nights. They also camp out during this march. When they return, they write by memory the 87 chapter summaries over a period of 3-4 days.
Then they go to the leper colony to serve the least of these brethren, as Jesus did, with His Spirit in their hearts. They spend 30-45 days there.
The second semester is about Evangelism methods and they learn by memorizing Bible verses and practice doing campus ministry each weekend. It is called university penetration tactics. All vocabularies are in military terms because we are in a war, the great controversy.
At the end of the first year they also have extreme survival training. They go to the remote mountain area where there is no electricity or water. It is cold in winter time and they build tents with the materials they can find and live there and serve the villagers nearby. That is to prepare them to go just anywhere the gospel is needed.
Due to security issues they were not advertising the program, and that is still the case. But I wanted to share their story in the U.S. and to help them through prayers and funds.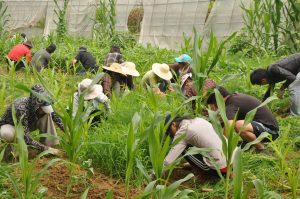 I started visiting some churches here that invited me (it is amazing how God leads when you are at His disposal) and sharing the work that God is doing over there. Many wanted to hear more specifics about the North Korea mission work.
In 2012 I also visited the place where this work first started, which borders North Korea.God is working mightily there and I am so thankful that I am part of this mission.
The training course is being expanded to four years and the first group of high-school-age kids have been selected among many applicants who could not go to school because of their commitment to keeping the Sabbath. But unfortunately many had to be turned away due to limited resources. Those who are enrolled will be taught the basic high school education plus missionary training.
Please pray for these young people. They need help. The work needs to be done to reach out to people in darkness so Jesus can return soon! May God bless you as you participate.