Mission's Feature
This I Will Never Forget
Cheryl Torres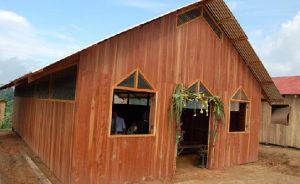 God can use anyone. Old or young, weak or strong, experienced or eager to learn—each person plays a valuable role in God's vineyard. And mission trips bring these people together.
This past summer, two groups joined the Outpost Centers International (OCI) mission trips to Zambia and Peru. The first group met in June at OCI-member Riverside Farm Institute in Zambia, where they spent more than two weeks preaching the gospel in surrounding villages. The different evangelistic series climaxed on the final Sabbath with the baptisms of many listeners and one of the volunteers.
As the Zambia group returned to their respective homes, another group was converging at Peru Projects. There they held a revival meeting each evening. But their main focus was on construction and health care. In ten days of service, one segment of the team built a new church. The others provided much-needed medical care to a number of villages along a nearby river.
Each person who joined the OCI trips brought a unique set of skills and experiences, and each person came home with his or her own stories to tell.
A Guidance Counselor
At her first ASI Convention, in 2007, Valerie came across the OCI booth. A display with some flags and an OCI "passport" caught her eye. Entries were being taken to win a free mission trip by collecting "passport" stamps from the various OCI ministry booths. She decided to go for it.
The drawing was held, and Valerie won. "I'm so glad I didn't give up," Valerie said. "It took perseverance to find all the OCI ministries in the exhibit hall, but it was well worth it!"
She went on the Zambia trip, and was touched by visiting the villages around her evangelistic site. "It's something I never thought I'd get to do—going to the remote villages, seeing how the people lived, assessing the needs," she said. "That made a big impact, and I [saw] how little we really understand." She also had the opportunity to meet separately with the women at her site and answer their questions about health, family, and relationships with their spouses.
"Go," she tells anyone thinking about a volunteer mission trip. "There are so many people in the world that need to know and love the Lord. And even if you don't have much, there are examples, like Riverside, of people who are using what little resources they have and doing a lot!"
A Primary Care Doctor
When Linda found out about the trip to Peru, she and her husband decided to go and to take their whole office team. During the trip, while the rest of the team worked on the church, they used their medical skills to hold clinics in tiny villages along the nearby river.
It was so different from working in their office. "We have never been so hot and sweaty for so long," Linda said. "But that and all of the inconveniences were nothing to us because of the joy we experienced in being of service!"
"We were touched by the gratitude expressed by our patients, who were so happy for our medical care," Linda continued. "We were overwhelmed by the gratitude of the staff on the mission launch, who had not had a physician on their boat for two years. In the end, we left a part of our hearts in the jungle."
A Mission-Trip Veteran
Ester and her husband, both close to 80 years old, have been on a number of mission trips, but had never preached an evangelistic series. They signed up for the trip to Zambia thinking it would include construction work. And they wanted to visit Victoria Falls. When they learned there would be preaching instead of building, they decided to give it a try.
Ester had been telling Bible stories to her children and grandchildren for years, so she was ready to give the children's stories. The children loved hearing about Daniel, Zaccheus, Joseph, and many others. "On our last night, I told the children that the heroes from the Bible would be in heaven with us, and I asked if they wanted to meet together there," Ester said. "They all raised their hands and came to hug us and say goodbye when we left. The mothers came too, and they were all so grateful. This I will never forget."
A Former Missionary Kid
Janell, communication director for OCI, grew up in East Africa. But she had never been on a mission trip. So she jumped at the chance to go to Peru, eager to visit South America for the first time and to help people in a tangible way.
"It reminded me a lot of being in Africa, and a lot of what I enjoyed was that it was so like Africa," Janell said. It was also very unlike Africa—a different culture, different language, and simply staying a few weeks instead of living there year-round. "It was exciting to have the first glimpse of another culture, getting to know a people-group for the first time, practicing language skills," she said.
For Janell, it was a meaningful change from desk job to hands-on job, where she built something that made such a difference. "To see our labor turn an empty piece of ground into a church building and then be able to worship with the people in their new church was amazing," she said.
A Reluctant Teenager
At 15, Stephanie was more interested in hanging out with her friends than traveling to Africa to help with evangelism. She'd never been on a mission trip before and didn't like the rusty pipes she had to shower under, the cement block dormitory that got so cold at night, or the big spiders that skittered across the walls. After the first evangelistic meeting, all these things seemed irrelevant. "The kids were so happy to see us!" she exclaimed. She marveled at how little they had and how willing they were to share anything they could. "They brought us fruits and were always smiling and friendly." Stephanie told the children's story or led the health talk at most of the meetings. After which she would listen to the sermon with the audience. "I don't have a denomination," she said after hearing all the presentations. "I've always just believed what I understand from the Bible. I never knew Adventists were the same way. They take things straight from the Bible. That opened my eyes."
A Magazine Reader
Mission opportunities pop up everywhere and in many different forms. One of these is OCI's upcoming mission trip to South Korea this summer. Find out more at www.outpostcenters.org/missiontrip.