Members in Action
The Water of Life
Jasmine E. Jacob
02/28/2015
The Samburu, a pastoral tribe living in the Northern Territories' semi-arid deserts of Kenya, had no access to clean water. Until three years ago, they also had no knowledge of Jesus Christ. The local Isiolo Seventhday Adventist Church encouraged and aided Justus, a former REACH worker, to take the gospel to the Samburu tribe. Justus lived among them to learn their language and customs and to win their trust. As an outsider, however, it was almost impossible. While trying to learn the language, he met a 70-year-old man who spoke Swahili, the national language of Kenya. Justus became friends with him and studied the Bible with him. The old man accepted the gospel and was baptized. The local people began to think, If such an elder man trusts this stranger, then we can too. This friendship allowed Justus to gain their trust.
Justus started giving free language classes for the adults under the shade of an acacia tree. He taught them to read and write in Swahili, using the Bible as their textbook. In the beginning, a few older men and women came to his classes. He told them they could learn to write their names instead of using thumb prints, as well as to read words and headlines on buses and in newspapers. The classes started to fill up as word got around about the students' increasing ability to read and write. As the people also gained interest in Bible stories, Justus started a branch Sabbath school with each group. The local church that was supporting Justus in his outreach efforts also provided a midday meal of corn and beans on Sabbath. This made a big difference in motivating attendance. Food and water are the people's biggest needs, so they flocked to the Bible classes and to church.
As the adults grew more interested in learning, they also wanted their children to go to school. REACH built two primary schools with three classrooms each. The schools were constructed out of cement blocks and covered with metal roofs. Forty children enrolled in the first school. The classrooms were also used for adult education classes, as well as for church on Sabbath.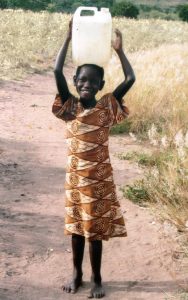 REACH leaders soon realized that the students were mostly boys with a few very small girls. Most of the girls had to go for water and did not have time to attend school. In the dry season, they walked up to 10 kilometers to bring back a little muddy water for their families. If the girls were to be educated, the ministry needed to get them water. In May 2014, the ministry took a group of three doctors and a pharmacist to hold three clinics in three of the villages. Many of the people's ailments were due to lack of clean water, and many people had high blood pressure from drinking salty water. In the dry season, the people even drink cow's urine and cow's blood and eat the gum from acacia trees. REACH was desperate to find a way to get them clean water. Ministry sponsors donated enough money to drill one well. Another well was promised by "A Better World," a Canadian NGO. One of the wells has already been drilled; thank God the water is not salty. REACH is waiting for the second well to be drilled and is praying that it, too, will have sweet water.
To have clean water would make a world of difference for the schools and for the more than forty families that live near each school. Because of the wells and the schools, many more families will move to the area. What an opportunity to share the water of life with them!