Missions at Home Feature
The Privilege to Do
Carrie Purkeypile
08/30/2009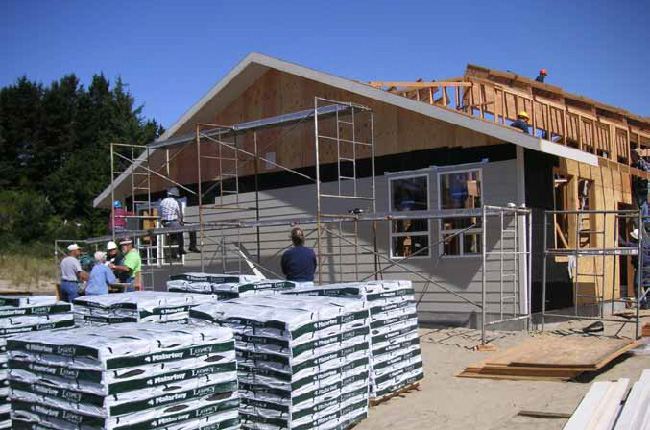 "I remember in Sabbath school, as a little girl, they would sit us in a little train with seats inside and put hats on each of us, singing, 'I am a missionary doctor' or 'I am a missionary nurse,'" remembers retiree Allene Kidby.
Sporting a bandana to keep dust and debris out of her hair, she's working in the hollow shell of a building, adding integral pieces to the framework. And she's doing it for free. "[Back] then we didn't have the concept of getting paid for anything. It was the concept of getting to do something!"
Allene and her husband, John, ran a small dental clinic in Oregon for many years. After retiring in 2004 their lives didn't really slow down much. They've taken up extra community service activities, adopted three rescued kittens and embraced a part-time "career" as dedicated Maranatha volunteers.
"I've wanted to come volunteer for years," says Allene, standing beside the ladder from which she's been tightening screws all morning. "I love the concept of volunteering and making a difference. My husband was harder to sell on the idea, until he went on his first project. Then he wanted to go on every one in the area!"
When you talk to John, it doesn't sound like he was ever reluctant. He was delighted to trade his dental drill for a power drill.
The couple participated in their first Maranatha project in 2005. They helped build a chapel for Project Patch, a facility for troubled youth in Idaho. Since then they have been on 10 more projects, occasionally staying for weeks at a time. The volunteers eat together, worship together, work together and bid fond farewells at project's end.
Many participants in the North American Maranatha bring a little bit of home along with them. Allene and John bring their house trailer and three cats to projects around the country. Other volunteers stay in dormitory-style accommodations when available.
Volunteers Birney and Lois Brown, who have participated in more than 50 projects since 1994, mostly in North America, travel with a motor home. As the couple became more involved in such missions, they decided to sell their house and spend more time on the road. They are now free to stay at a worksite as long as needed.
Lois says she and her husband feel as though they have found a way to do something for God. They both shy away from public speaking, but fixing fences, pounding nails and putting up trusses is a ministry they've given their lives to. After so many years as volunteers, Birney and Lois call the Maranatha crew their family.
Birney, who will be 80 in August, is still determined to keep busy. "He told the Lord as long as the Lord gave him strength, he would do this for Him," Lois says.
Maranatha has organized construction projects in 43 states as well as in Canada and Mexico. Numerous international projects take Maranatha volunteers all over the world. But the North American projects are a unique experience in their own right and have a loyal following.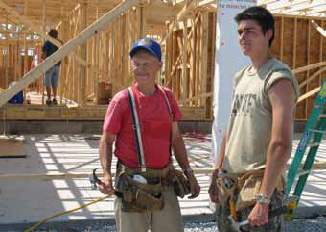 Bernie and Vickie Wiedmann own a business in Grant Falls, Washington. But they frequently make time to help with North American Maranatha projects. Bernie remembers the first project he ever participated in, building a church in Quincy, Washington. "That project was where we first got acquainted with many Maranatha people whom we still see at projects now, many years later!"
Indeed many volunteers comment on the camaraderie they feel among fellow participants as time and again they participate in such tangible work for Lord. After so many years as volunteers, Birney and Lois feel like the Maranatha crew is part of their family.
Participating in North American projects offers a lot of advantages for these volunteers. Eugene Augustin has helped on projects both close to home and overseas. "North American projects are less costly and handier for us," he comments. "We don't have to make our plans so far in advance."
While many volunteers on Maranatha projects are veterans with experience in construction, others are brand new to the trade and learn as they go. Volunteers are also needed for cleanup, painting, specialty tasks, even preparing meals.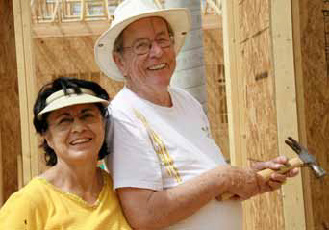 "Every meal is a production!" exclaims Allene, who has spent many long days with her Maranatha friends cooking big meals for the work crew. Every meal features an abundance of options—certainly not a cold-cereal-and-sandwiches kind of experience!
North American projects take place everywhere from Washington to Arkansas, North Dakota to Virginia. One of Maranatha's first major building projects was constructing a church in Yellowknife, Northwest Territories, Canada, in 1973.
Summertime projects in Alaska and Canada have remained a favorite with volunteers. There are also occasional projects within driving distance in Mexico. Many projects entail building dormitories, classrooms or chapels at academies or youth camps. Bernie has fond memories of his many trips to help with construction at Project Patch. "Working there on a hill nestled out in the trees along the river—it's a beautiful place!"
For the volunteers, watching projects progress is both amazing and cathartic. "When we walked in here it was an empty room," Allene says of the current project she's working on in Roseville, California. "I am privileged to see all that has been built here."
"We are doing this for Jesus; plus we are helping people," says John. "This is really a gift. Once it is built it keeps on giving, even after we're gone."