Officer's Outlook
The Future Is Certain
Chris Holland
02/28/2014
One of my favorite passages of Scripture is John 14:1-3: "Let not your heart be troubled; you believe in God, believe also in Me. In My Father's house are many mansions; if it were not so, I would have told you. I go to prepare a place for you. And if I go and prepare a place for you, I will come again and receive you to Myself; that where I am, there you may be also." This text, without any explanation, provides great hope for our future, but further study on this New Testament passage as it was originally written in the Greek language uncovers a beautiful assurance about the coming of Jesus.
Even if you are like me and don't like grammar, stay with me; you will be blessed by this little grammar study. In English, the phrase "I will come again" is expressed in the future tense. In the original Greek, however, it is written in the present tense. Why, if it was originally written in the present tense, is it translated in the future tense?
In grammar, there is something called syntax, which is the relationship between words and phrases. In Greek, one form of syntax is called a "futuristic present" by which an author writes in a specific present tense that actually means future tense.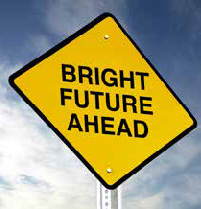 Why is this form valuable? It is used to convey the certainty of a future event—certainty so certain that it is written in the present, as if it were already happening.
John, writing the words of Jesus, writes with such certainty about Christ's second coming that it is as if it were already happening. The coming of Jesus is not a possibility. It is not plausibility. It is a certainty!
With this certainty in mind, I have lately been asking myself this question, "If the coming of Jesus is so certain, why don't I live every day as if it may be my last to convey the love of Jesus to the world?" This reality hit me hard in recent weeks as I said goodbye to the congregation I have pastored the last three years in Hagerstown, Maryland, in order to work with ASI. As I contemplated my final messages to that group, it struck me that every sermon I preach, every Bible study I give, every opportunity to witness should be treated as if it were my last opportunity ever.
The coming of Jesus is sure, and each of us is called to make an impact on this world for the betterment and increase of His kingdom. There is no need to sorrow for the past or fear for the future. The news of the day— school shootings and government shutdowns, possible wars, an economy on the edge—none of that should drive us to despair, because Jesus is coming soon to end it all. In the certainty of His coming, He calls us to prepare the world for His soon return.
I like how 2 Peter 3:11-12 reads in the New International Version: "Since everything will be destroyed in this way, what kind of people ought you to be? You ought to live holy and godly lives as you look forward to the day of God and speed its coming." What a pertinent question—with a convicting answer! Other versions use the word "hasten" instead of speed.
Ellen White wrote these words:
"By giving the gospel to the world it is in our power to hasten our Lord's return…. Had the church of Christ done her appointed work as the Lord ordained, the whole world would before this have been warned, and the Lord Jesus would have come to our earth in power and great glory" (Desire of Ages, p. 633).
With a future so certain, may the Lord give us the strength to use our time, talents, abilities, and resources to hasten His soon coming.