ASI Abroad
Organic Store in Germany Offers Plenty of Witnessing Opportunities
Sigrun Schumacher
02/28/2015
"I wanted to be absolutely sure that this was God's will. So I asked God for an obstacle which only He could help me overcome, and I would happily follow His lead."
Timo Hoffmann, 29, is a new, single ASI member who lives near Koblenz, Germany, with his parents and older brother. Several years ago, as he and his mother walked leisurely through their hometown of Bad Neuenahr-Ahrweiler, Timo saw a vacant shop with an unusual sign in its window: "The town and its people are waiting for your offer."
In his mind, Timo heard the words, "Seek the welfare of the city." Was this what God wanted him to do?
In the spring of 2013, Timo began planning to open an organic health food store. The 88-square meter space (approximately 1,000 square feet) was an excellent location. Negotiations for the property went well. The landlord liked the idea of providing space for a service the town currently didn't have.
To learn whether he was on the right path, Timo asked God for an obstacle that he could not overcome through his own strength. The challenge came sooner than expected. On the same land where his new store would be located was a big-chain supermarket. The supermarket's lease with Timo's landlord stipulated that there could not be another food store on the same premises. Before Timo could sign the lease, this problem needed to be resolved.
Surprisingly, the supermarket had no objections. So Timo signed a lease and moved forward. Help came from his family and church members in the nearby town of Mayen.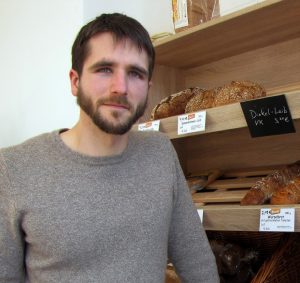 On his next birthday in January 2014, Timo opened the doors of the MAN HU organic health food store. He and his team were speechless when 500 customers visited the health food store on opening day; business has been good ever since. The store has received excellent press coverage in local media. And an added blessing is that because the town of Bad Neuenahr-Ahrweiler is a resort town, the usual German Sunday shop-closing hours do not apply.
Timo is happy. "With this store we want to witness to the community. And the best thing is, we don't have to search for the people. They come to us and ask us questions."
Some of those questions include: "What is the meaning of your shop name, MAN HU?" "Why do you promote a vegan lifestyle?" "Why is your store closed on Saturday?"
"Their questions allow us to point them to the Bible," says Timo. "Man hu is the Hebrew word for manna that God gave to the people of Israel for food. God wants to give us good health—and He has provided us with a day of rest."
Future plans at the store include cooking classes, as well as health and Bible seminars. An 85-year-old man has offered Timo a free garden plot nearby where he can grow organic vegetables and fruit for his store. Timo and his team are working hand in hand with God, and God is blessing their efforts.