Feature
Steps Toward the Upper Room
Conna Bond
08/30/2011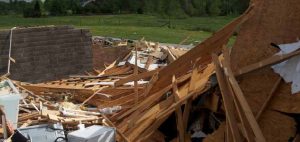 It was sort of a last-minute trip when Melissa Summers headed to West Palm Peach in April. But she doesn't really believe anything is "last-minute" with the Lord.
As vice president for event and site coordination for the ASI Southern Union chapter, Melissa had made travel arrangements just the week prior, and was scouting out a location for the next chapter convention. On Wednesday evening, April 27, she watched the Weather Channel from her hotel room and decided to warn friends in Atlanta about the tornado warnings issued for much of the South. She tried calling home, but no one answered.
The next morning, her cell phone rang.
"The house is gone!" said the voice on the other end.
"What do you mean the house is gone?"
"It's just gone! There's nothing but splinters left!"
Melissa had been renting a bedroom apartment in the basement of a peaceful country home near Collegedale, Tennessee. The night of April 27 was anything but peaceful. The owners of the home had decided to make a quick, late-night trip to Walmart for supplies in case bad weather hit. While they were gone, it did.
Their son and a Korean exchange student living with them, both 17 years old, barely made it to the basement laundry room when the tornado hit and ran. Theirs was the only small space left standing when the howling stopped and only the darkness remained. Melissa wasn't there, but she was one of the victims.

Like many ASI members, Melissa's purpose for ministry defines her life. It also defines what she did and did not lose in that devastating storm. That's why she doesn't care that most of her clothes and personal belongings are gone, and that her car was crushed by the falling house and blown across the yard. She is thrilled that her Bible and a few other books, a small bag of loose change, two video cameras, two tripods, and a portable video case housing a delicate 32-inch monitor were about the only things spared.
One of the cameras had been knocked from a tripod that was the highest standing item when it was found. Only a small, easily fixed item on the camera was damaged. She had just thought to buy a special travel case for the other equipment a month or so earlier, so it also was protected.
Melissa is an independent video producer whose personal mission it is to help small ministries with even smaller budgets produce television programs they couldn't otherwise afford. For many independent ministries, commercial video production rates are prohibitive. Those ministries have important messages, but they lack the creative and financial resources needed to communicate them to a larger audience. Melissa has spent plenty of time in front of the camera as a television personality, so she can tell a good story. But she's more interested in helping others tell theirs.
Melissa has a flat rate for her services: faithfulness. "When ministries ask for my rates," she says, "I tell them, 'Be faithful and give whatever donation you can afford to give.' I know there are honest and dishonest people. I have needs. I have to eat, to keep up my car insurance, and pay my rent. But I have seen the Lord work. The Lord just blesses."
It's not that she expects everyone to function that way. But it works for her. It's her calling, and she fills a ministry niche that needs filling.
Besides the Bible and the $50,000 worth of video production equipment spared, the most significant item Melissa found when she returned "home" was a small pamphlet that had been distributed in registration packets at an ASI Convention years ago. She found it while crawling on her stomach across the water-soaked basement floor under what once had been the roof. She was literally at the lowest point in the house when she saw it lying there, face up. It was called Steps Toward the Upper Room.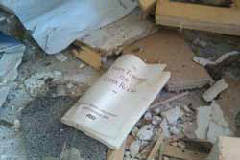 "It contained the most beautiful collection of Bible verses and Spirit of Prophecy quotes," she says. "It talked about having the 'upper room' experience and being filled with the Holy Spirit. That really stood out to me, because when you have no material room—when everything's gone—there's only the 'upper room' to go to."
Even if the results had been worse, Melissa's perspective would not have changed, she says. "I think the biggest thing is, when God gives us a work to do, we have to be faithful to that work, even unto death. Fortunately, this time He saw fit to spare my life, but even life should be subjected to the ultimate work or mission the Lord brings us to."
She's quick to list with excitement the many ideas and projects she still has on her plate. "Think about it!" she exclaims. "It's not meant for us merely to 'make a living.' We're so close to the end, we have to be about God's work!"