Youth Missions Feature
Pointing to Christ
Debbie Battin Sasser
08/30/2009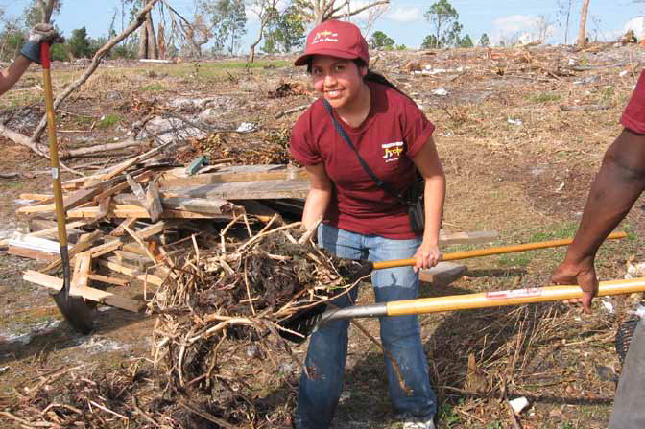 Hurricane Ike flooded news reports as the fierce, 900-mile wide storm left a trail of devastation along the Texas and Louisiana coast and blasted northward. Thousands of people were in need of clean water, food, clothing, and basic supplies. Countless homes were flooded, roofs blown off, and debris of all shapes and sizes was strewn everywhere. Trees had blown over and power lines were down, leaving large swaths with no electricity. Many people were stranded.
Relief agencies from near and far responded to this massive disaster. Among the first responders was a trained disaster relief group from Heritage Academy (HA) in Monterey, Tennessee. Soon after the hurricane passed, a cadre of more than 40 students and faculty arrived in Orange City, Texas.
They traveled door-to-door, assessing the condition of homes and residents' needs—an important part of the disaster relief process. The collected information was taken back to the Emergency Operation Center (EOC) where it was recorded and processed for use in coordinating relief efforts. HA students used handheld devices to collect the data. "Young people today are great at sending text messages; their fingers move like lightning," says Debbie Baker, HA president. "It was a good match-up!"
Disaster relief exemplifies the mission of Heritage Academy. "In every aspect of disaster relief, young people have the opportunity to live their faith, experience the Holy Spirit working in other people's lives and in their own, and share Christ in tangible ways," says Baker. "I can't think of another ministry that fits so well with our mission."
All Heritage Academy students and faculty have completed Red Cross CPR, basic first aid, and Community Emergency Response Team (CERT) training, available through the United States Department of Homeland Security. "We are trained more than most disaster relief volunteers. Knowing what to expect, how to react, and what to do gives the students confidence to get involved when the opportunity arises," says Baker.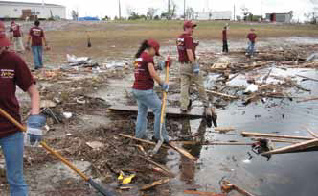 Hurricane Ike's aftermath was just the latest in a string of disaster relief efforts by Heritage Academy. When a tornado leveled the town of Lake Mak, Florida, an HA team helped clean up debris and assisted homeowners in recovering salvageable items. And when tornadoes struck Jackson, Tennessee, another HA group was quick to respond with tools and manpower to remove debris and complete several rebuilding projects.
"I have seen people lose everything and have learned to appreciate the small things that tend to be overlooked on a daily basis," says HA student Sarah Unruh, who has not only served on two disaster relief teams but has led disaster relief training courses as well.
After Hurricane Katrina struck, an HA team traveled to Waveland, Mississippi, to provide disaster relief in coordination with ACTS (Active Community Team Services), an ASI member organization that links entities such as the Federal Emergency Management Agency, Red Cross, or Salvation Army with volunteers from Pathfinder clubs, churches or school groups.
The HA group distributed ice, water, baby food and other supplies to victims of Katrina. "Every time a car drove through the distribution line, we offered to pray for the occupants," says Unruh. "There were a few people who said no to us, but later they came back to ask if we could pray for them." Disaster relief involvement often places HA students in circumstances where they have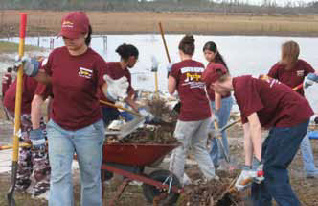 opportunities to talk with individuals about God.
Later, HA students and faculty helped rebuild the New Orleans First Seventh-day Adventist church. "I have learned that just as Jesus taught in the Bible, it is more blessed to give than to receive. As I give my time and energy to help others, it has taught me to love others more," says HA student Rachel Burton, who has participated in disaster relief projects and presented ICS (Incidence Command System) workshops during her three years at the school.
When a recent hurricane dropped 30 inches of rain in one day on Melbourne, Florida, the Heritage Academy group became an answer to prayer for one woman. She had just moved to Florida, and found herself alone after the floodwaters receded. She needed to sort through all the wet moving boxes to take photos for her insurance. "She could not do it all by herself, and that morning she had pleaded with God for help," says Unruh. The HA team spent an entire day assisting her and finding belongings that could be salvaged. "Before we left, we had a prayer with her and reminded her to keep God first," says Unruh. "She thanked us profusely and gave us hugs."
God has opened doors for Heritage Academy students not only to do disaster relief work, but also to train others to get involved. Recently, several students joined David Canther from ACTS to conduct ICS training at the Southern Union Leadership Conference at Nosoca Pines Ranch in South Carolina. Attendees learned about basic disaster relief concepts and even participated in a mock disaster drill. "The response was overwhelming!" says Baker. "People were sold on it. They committed to providing disaster relief materials, and contributed money towards doing more disaster relief—with young people at the helm."
Providing disaster relief training has been an effective way for HA to make connections in the local community as well. Students and faculty have formed relationships with leaders of various organizations. Recently, the local crisis response agencies contacted HA to help search for a missing citizen.
An HA student has even helped enhance disaster relief materials. "One of our students helped update the curriculum for CERT training two years ago," says Baker. "He asked about disaster relief response to a terrorist attack." The course has since been updated to include specific guidelines and a mock disaster drill for responding to a disaster where explosives are present.
Disaster relief involvement is making young people strong citizens, developing their leadership skills, and increasing their desire to serve. "We need God to show us what is right to prepare youth for the ministry He has for them—not as we see fit, but as He leads," says Baker.
Nathan Traxler, an HA senior, explains his experience this way: "People think that you must speak to somebody in order to teach them of Christ. I have learned that it is completely different. A life is more readily changed through example than through words."