Feature
Pioneer Stories from Riverside Farm
Meiring Pretorius
08/30/2010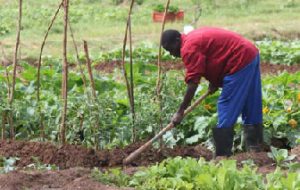 You can expect just about anything when you work as a missionary in Africa. It is challenging at times, but God's presence is always here in the midst of witchcraft, superstition and even "madness." The darkness that pervades much of Africa is being lighted by God's glory—sometimes in very unusual ways. Many people in Africa are hungry for God's Word. We just have to feed them.
Riverside Farm, a self-supporting ministry and member of ASI and Outpost Centers international (OCI), is ideally situated on the beautiful Kafue River within the Republic of Zambia. It "mothers" many smaller projects in the surrounding regions of Africa. One way is through our Bible Pioneer program, supported by individuals and institutions from all over the world. It costs $80 (US) per month to support the work of one Pioneer as he or she takes the gospel to one of Africa's dark areas. Pioneers are trained at Riverside to be simple "fishermen" for the Lord.
Friday Sinjela, one of our Bible Pioneers, shared the following story:
A madman came to my office one day and demanded a small amount of money. I gave him the money just to get rid of him, but he refused to leave, so I asked him what else he wanted. He pointed to a set of Bible Discover Guides on my table. I gave him the guides, and he left.
On his way through town, he met a nurse he knew. He handed her the Bible study guides saying, "Someone told me to give you these papers. You must read them."
She took them home and decided to look them over before throwing them away. She ended up failthfully reading all 26 guides and answering the questions at the back of each one. Guide number 26 had my phone number on it, so she called to find out how she could have her papers graded. I visited her at the clinic where she worked and discovered she had gotten the guides from a madman. As I looked over the guides she'd completed, I saw that she had indicated her acceptance of Christ as her personal Savior and that she desired to find a Sabbath-keeping church. I was amazed! God can use anyone to spread His Word!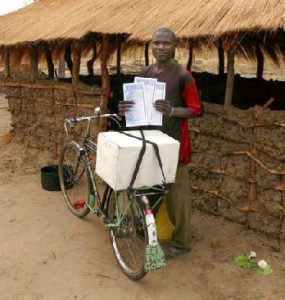 Riverside trains its Pioneers to use the "right arm" of the gospel—the health message—as an entering wedge into people's hearts. Witchcraft is pervasive in Africa, enslaving many people. Today, as in the days of Elijah, God's power still works on behalf of His people. Roy Habasimbi, another Pioneer, shared this experience:
A well-known local witch doctor was diagnosed with hypertension and given medication by a local hospital. Desperately she used the medication for one year to no avail. Meanwhile, she continued to "treat" other people for their ailments. It was thought that she had "spirits" who helped her to see the future and to diagnose diseases.
Eventually she was unable to attend to any more patients because her blood pressure was so high. She became pale and could hardly eat or drink. A woman I had helped find healing in Jesus told the witch doctor about me, and she requested my help. I feared that, because she was demon possessed, she might cause trouble for me. Finally, I went to her and found her desperately ill in bed. Her blood pressure was extremely high, and she said she was "just waiting for the day that I die."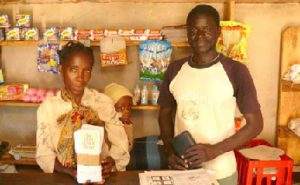 I gave her some simple treatments, and the next morning I found her sitting upright. Two days later, she declared, "The God you worship is a God of love. He cares for those who hate Him." She and her daughter are now receiving Bible studies, and many people who used to be her "patients" have also turned their eyes to the God we worship.
Daily we see God's hand working in Africa. It is God's will for all to accept His Son's sacrifice. The team at Riverside Farm desires to work with our Bible Pioneers to reach every precious soul in Africa, believing in the soon return of our Savior Jesus Christ.