Project Update
One Day Church
Garwin McNeilus
07/15/2014
I t is with joy and praise for God's continued blessings that we share an update on the progress of the One Day Church and School Project. Last year was truly remarkable.
Thanks to the generosity of our ASI family, partnership with Maranatha Volunteers International, and help from many others, we were able to ship 20 containers carrying 735 One Day Churches to countries around the world. In addition to the One Day Churches, we shipped another 17 containers with 222 One Day Schools worldwide.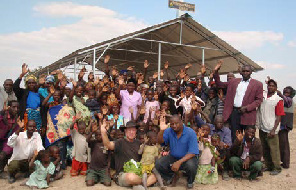 Construction of One Day structures has been accomplished with remarkable results by ASI Supporting Ministries such as Kibidula Farm Institute, Congo Frontline Missions, Maranatha International Volunteers, Riverside Farm Institute, and Mukuyu Outreach, with thousands of dedicated volunteers who built in some of the remotest areas of the world.
Since 2011, containers bearing One Day Churches or One Day Schools have been sent to Zimbabwe, Mozambique, Malawi, Ghana, Angola, Chad, Congo, Tanzania, Uganda, Zambia, Ethiopia, Kenya, Honduras, Dominican Republic, Haiti, Ecuador, Belize, Panama, Nicaragua, India, and the Solomon Islands.
To date, 5,095 One Day Churches have been manufactured. With each One Day Church seating 200 people, these new churches represent worship space for 1,019,000 individuals worldwide.
In addition to the 5,095 One Day Churches constructed, a total of 987 One Day Schools were manufactured. With a seating capacity of 40 students each, this represents new classroom space for 39,480 eager learners!
Besides churches and schools, we have also been blessed with the opportunity to manufacture 12 One Day Dormitories, 16 One Day Greenhouses, 15 One Day Hospital housing units, and 8 new One Day Hospitals. Here in North America, we were able to construct and deliver 1,200 feet of greenhouse structures.
The One Day Building program truly equals souls for eternity. Every Sabbath, more than 1 million people gather under a One Day Church roof to worship God, and each week 39,480 children receive a Christian education in a One Day School.
We praise the Lord for His blessings and leading in this project, and we thank everyone for your prayers and support. Through our humble efforts, the Lord is making a profound and positive difference in many lives around the world.