Feature
The Old Model A and the Spirit of Sacrifice
Pat Humphrey
01/20/2010
Ever since he was 11 years old, Trenton Frost has been fascinated with Model A Fords. Little did he know, however, that his passion for buying and selling vintage automobiles would one day lead to an incredible opportunity to bless others—not once, but twice!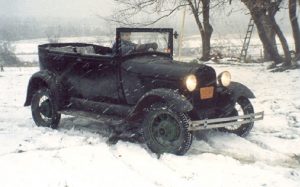 In 1984, when Trenton's son, Daven, was 12 years old, the family acquired a 1929 Model A Ford. It immediately became a family treasure.
"I've owned many antique autos over my lifetime, but I've always had a special affection for Model A and Model T Fords," explains Trenton. "We fixed up the old Ford, put it on the road, and made many happy memories with it."
In 1987, another opportunity arose that the Frost family couldn't pass up. Former missionaries to Africa made an appeal at their church in Canton, New York. The appeal was on behalf of a student from Tanzania who was attending Southern College, along with his wife. The couple had run into financial difficulties and needed $2,000 to continue their education.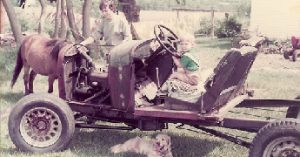 "Although we had a lot of affection for the car and had made some wonderful family memories with it, when we heard the story, we were inspired to sell the car to raise the funds to help out," says Trenton. "The Lord touched our hearts with the plight of these students, and He helped us to sell it quickly. We advertised it in the newspaper, and this charming old farmer looked the car over and, wanting to go down 'memory lane,' bought it from us."
The sale brought just enough money to donate the needed school funds, with $500 left to split between Daven and Melissa, who were ages 15 and 17 at the time.
Not long afterward, in the fall of that same year, tragedy struck. Daven was killed in a car accident on the way to school. His mother, Oriana, had been driving, and his sister, Melissa, was critically injured—but by the grace of God, and with many prayers, mother and daughter survived.
Years passed, and the family eventually relocated to California. Melissa recovered and went on to earn bachelor's and master's degrees in nursing. By the summer of 2002, after completing her education, Melissa needed a vacation, so she accompanied her dad to their seasonal home in northern New York. The drive east from California was a pleasant one, providing an opportunity for some wonderful father-daughter time together.
"We had driven a ways on historic Route 66," Trenton recalls, "when I remembered hearing that the old Ford we'd sold back in 1987 was still in the barn belonging to the farmer we'd sold it to. Vintage autos have always played a role in my life, and my daughter had an appreciation for them, as well."
When the two arrived back at their northern New York home, they immediately contacted the old farmer by phone. When the farmer's wife answered, Trenton asked, "Do you still have that car we sold you back in 1987? And, if so, would your husband be willing to sell it?"
"Yes, we still have the car," she answered pleasantly. "My husband is in the barn right now. Why don't you come on down? He'll be done with chores by the time you get here."
When they arrived, the farmer welcomed them into his tractor shed, and there sat the old Ford with a very noticeable layer of dust on it. They were amazed. The car looked just the same as it had on the day they'd sold it 15 years earlier. It even had the same tires, which were still in good shape.
"We were very happy to see it, and it brought back many memories," says Trenton. Best of all, they were able to purchase the car for the exact same price for which they'd sold it.
Three years later, the family was living in Avon Park, Florida, to be near Oriana's aging mother. The 2008 ASI convention was scheduled to occur in Tampa that year.
"I wasn't able to go to the convention," Trenton recalls, "but my wife went, and while there, she came across the One-Day Church booth. She became very intrigued with the whole thing."
Sensing the need and excited about the opportunity to help struggling congregations in other parts of the world build places of worship, Oriana felt an overwhelming desire to contribute. She returned home and shared her convictions with her husband.
"God impressed me that there must be a way for our family to help build a church," Oriana says. "We didn't feel we had the means for such a project, but I knew that if we could sell our Model A Ford—even though it was twice a treasured family heirloom—the proceeds could certainly be used to bless others."
Once again, the Model A Ford was offered for sale. This time, the Frosts took the car to an antique car dealer. Miraculously, the car sold very quickly.
"There were cars lined up that had not sold, but our Model A sold," recalls Trenton. "A well-to-do man from Georgia purchased it for $3,000 (plus the dealer's commission)—exactly the amount needed to help build two churches."
But that's not all. When the purchaser learned of the charitable purpose for which the car was being sold, he placed in Trenton's hands an extra $300!
"At the outset, the buyer had requested a price reduction!" Trenton muses.
The Frosts chose to sponsor churches in Ecuador because Oriana's parents, Pastor Rolf and Marta Butendieck, had been missionaries in that country, and her brother was born there. So if you travel to two small towns in Ecuador called Quinsaloma and Oeste, you'll find two houses of worship that were built in a day. They replaced shade trees or other less-than-adequate structures where committed believers used to gather.
Today, two brand new churches stand because one family loved the Lord and His people more than they loved a treasured family heirloom. And somewhere out there is a Model A Ford that testifies to the fact that the Frost family's affection for old cars pales in comparison to their love for God and their desire to serve Him.
"For where your treasure is, there your heart will be also" (Matthew 6:21, NIV).