Members in Action
Mission: Written In Liquid Stone
Mark Bond
08/30/2011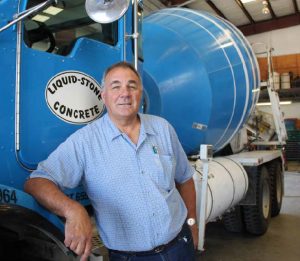 Some entrepreneurs launch companies with a solid business plan, a prestigious board of directors and a healthy dose of investment capital. Paul Karmy is not that kind of entrepreneur. But don't be tempted to think he has a lack of vision.
Paul is the president of Liquid-Stone Concrete in Burleson, Texas. His company provides concrete for construction projects all around the Dallas/Fort Worth Metroplex. Pouring concrete, however, is just one side of this soft-spoken, hard-working Renaissance man.
Humble Beginnings
Back in the 1970s, Paul and his brother, Richard, were building homes together in Washington State.
Paul recalls, "We were working on a sidewalk and it was getting away from us, so a friend who worked with concrete came over to lend us a hand. We were sweating our way through the job when we said, 'There has to be a better way to do this,' to which our friend replied, 'There is. It's called a slipform machine.'"
It wasn't long before Paul and his brother bought a slipform machine of their own and started pouring driveways, curbs, gutters and sidewalks full-time. In 1987, they moved their business to Odessa, Texas, and started pouring barrier walls for the Texas Highway Department.
With the ever-expanding road system, there was a lot of good business, but the farther you got from a town, the harder it was to get concrete to the job site. There was a shortage of concrete plants, and sometimes you had to wait several weeks to get your order filled. So Paul decided to hand over the slipform paving business to his brother and invest in a portable concrete plant. This allowed them to set up and pour concrete in virtually any location. They could follow roadwork hundreds of miles from town and still provide fresh concrete.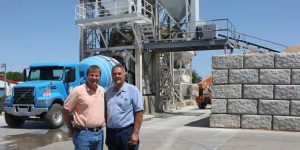 From Concrete to Crusades
While living in Odessa, they started working on contracts in San Angelo, two-and-a-half hours east. Every other weekend, Paul's wife, Darlene, would drive their children over to attend the little San Angelo Seventh-day Adventist Church. When the church decided to host an evangelistic series, the Karmy family helped out. It was then that Paul decided to look for ways to use his business as a tool to share Christ.
Paul has always told his clients that pouring concrete on Sabbath is not an option, even at the risk of losing major contracts. One contract required him to pour concrete for a water line project that ran 147 miles from San Angelo to Midland. At every low-water crossing, Paul provided concrete to encase the waterline. A few days before reaching the river in San Angelo, the contractor took Paul aside and said, "I think we've got a problem." It looked like they'd need to cross the river on Saturday.
"Let's go get a sandwich and talk this through," the contractor said.
"I explained to him that religion isn't always convenient," Paul recalls, "but when God asks you to do something, that's what you do, whether it's convenient or not."
They started pouring concrete at the river on Friday at noon, and by the end of the day they'd poured 300 yards. While Paul was in church on Sabbath, the contractor hired another company to pour an additional 500 yards. On Sunday, Paul poured the final 50 yards to finish the job.
A week later, they reached a crossing that engineers hadn't thought would require concrete, but at the last minute they changed their minds and called Paul in to pour an additional 500 yards—the exact amount he'd lost in business the previous Sabbath.
"God gave me back every bit of concrete that I 'lost' from not working on Sabbath," Paul says. He actually came out ahead on that project.
Eventually, Paul relocated to Burleson, stopped chasing jobs with his portable plant, and established a concrete business in one location. Twenty years later, Liquid-Stone Concrete is still providing ready-to-pour concrete services in and around the southwest corner of the DFW Metroplex.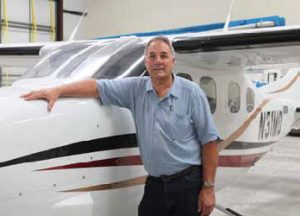 Making Ministry a Priority
Paul has a passion for aviation that eventually led to deeper involvement in ministry. In 2004, Paul attended an ASI convention in Phoenix, where he stopped by the Adventist World Aviation booth and found kindred spirits there. A pastor in Dillingham, Alaska, needed a mission plane to travel to 65 villages that could only be reached by air. Paul helped raise funds for that plane, and eventually served as chairman of the AWA board.
"I would never have gotten connected with AWA if I hadn't attended an ASI meeting," muses Paul. "ASI is a great way to connect whatever you're passionate about with exciting ministry needs and opportunities."
A Question that Launched a TV Station
Not long ago, Morris Lowrey, a retired pastor who attends Paul's church in Crowley, Texas, asked Paul a question: "What would it take for Crowley to get 3ABN on the air?"
"I have no idea," Paul said.
Two-and-a-half years later, Paul knows quite a bit about getting a signal on the air. Again, a trip to an ASI convention was the platform for knowledge and opportunity.
"I was hanging out at the AWA booth and helping them pass out materials," remembers Paul. "Across the aisle was a booth for Good News TV from Phoenix, Arizona. When things got quiet at the AWA booth, I'd walk across and chat with the folks from Good News."
A friendship ensued, and Paul flew out to Phoenix to visit the station. He returned with a sense of purpose and started garnering support and resources. Today, the Crowley church has a television station that miraculously reaches most of the Dallas/Fort Worth footprint.
"I'm smart enough to know that I can't do everything alone," says Paul. "One of the hardest things to learn is how to delegate. God didn't make the world to revolve around any one of us. Each one has a part to play. It's important to realize what you can and can't do, and then find others who can help you accomplish those goals."
Paul is thankful that his son, David, is responsible for the day-to-day operations of the concrete plant.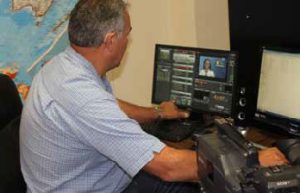 "If I didn't have his help, I couldn't be going on Maranatha mission trips or helping out over at the television station," Paul says.
It's not always easy to find a balance between work and ministry. Each day presents new challenges, but Paul has no complaints.
"Problems keep you focused on why you're here. My philosophy is that God didn't put us here to pad our pockets or get rich. He put us here to facilitate His ministries and to help them out financially."
That wisdom and sense of mission has served Paul Karmy well over the years. It's been written in liquid stone around the DFW Metroplex, all over Texas, and throughout the world.