Feature
Meet Eden Valley's New President
ASI Staff
08/30/2015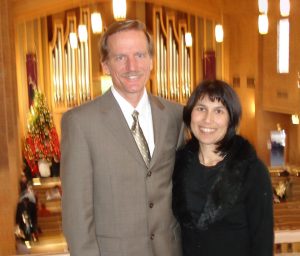 Eden Valley (EV): How did you become interested in natural medicine?
Daniel McKibben (DM): I was born and raised in Denver, Colorado, as a Roman Catholic in a family with ten siblings. When I was 12 years old, I wanted to be a priest so I could get close to God. A few years later, my life was turned around by several events. My oldest sister was diagnosed with a brain tumor and given eighteen months to live. At the same time, my 27-year-old brother was diagnosed with arthritis so severe that he couldn't bend one knee, and he also had sinusitis that needed surgical intervention. My sister opted for chemotherapy, radiation, and surgery. Every chemo treatment was so traumatic. She would come home and vomit for the next three days. And after eighteen months, she died. My brother, on the other hand, had started dating a vegan woman, who helped him change his diet. His health issues, which admittedly were much milder than my sister's, cleared up without any medical intervention. I realized that "There are many ways of practicing the healing art … God's remedies are the simple agencies of nature that will not tax or debilitate the system through their powerful properties." (Counsels on Diet and Foods, p. 301) So I began to seek a better lifestyle.
EV: You mentioned you wanted to be a priest so you could get close to God. How has He fulfilled the desire to get close to Him?
DM: I pursued the New Age movement and began using marijuana as I searched for spiritual fulfillment. By the time I reached my early twenties I was lost and I knew it. I cried out to God. Then my truck broke down and I took it to the most honest mechanic I knew. He happened to be a Seventh-day Adventist. I was a vegetarian at the time, and very interested in herbs and natural remedies. He didn't just fix my truck. This mechanic and his family ministered to my physical needs using natural remedies, and then gave me Bible studies until I became a baptized member of their church! Jesus used healing as a ministry so effectively. For example, John 6:2 says, "And a great multitude followed Him, because they saw His miracles which He did, on them that were diseased." I now had a passion for lost souls, and since the health message had been so powerful in bringing me to Christ, I wanted to use it for the same purpose. So I studied herbal, natural, and massage therapy.
EV: How did you become acquainted with Eden Valley?
DM: Eden Valley called me and asked me to work as a lifestyle therapist in their Lifestyle Center. I accepted the job offer and was soon promoted to Lifestyle Center Director. I lived at Eden Valley for ten years before I got married and moved away.
EV: What did you and your wife do then?
DM: We initially trained at the Amazing Facts College of Evangelism and then worked as medical missionary Bible workers in Decatur, Arkasas. While there, my wife and I started a small health ministry that has subsequently grown into a thriving lifestyle center (http://www. wellnesssecrets4u.com/).
EV: Why did you move from Decatur, Arkansas?
DM: My wife, Nerida, is a physician from New Zealand. In order to maintain her license, she needed to move back to her home country. So we packed up and moved to New Zealand for the next ten years. While there I had the privilege and opportunity to do full-time pastoral ministry.
EV: When did you return to the United States?
DM: In 2012 the Hope Channel asked Nerida to host a new health program, called, "Go Healthy … for Good."
EV: God's ways are mysterious. How does it feel to be back to Eden Valley?
DM: I am very glad to be here. After much prayer and consideration, we believe that it is God who has called me. It is a privilege to serve Eden Valley as president.