Feature
Mafgia
Dianne Wagner
08/30/2015
My husband and I were involved in the Mafgia ministry before even meeting the founder, Antionette Duck. Becoming involved was an answer to prayer that had not even been whispered yet. Truly, the Lord directs our path in ways we can't even imagine.
Years before, when Antionette's mother was pregnant, alone, and afraid, a nearby Baptist church offered her help. Her mother was in a destructive relationship and was planning to return to her home in California to have an abortion. But the church's ad in the local newspaper, "Hey, I'm alive," caught her attention, and she made an appointment. They were able to confirm her pregnancy, and although they would not assist in an abortion, she agreed to go back for counseling.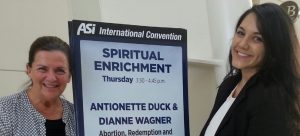 When she returned for counseling, Antionette's mother picked up a vintage 1965 LIFE magazine that premiered photographs documenting the life of pre-born babies from conception to birth. She saw tiny hands with fingers, feet with toes, and was able to read about heartbeats and brainwaves, kicking and movement. It changed everything! She didn't know what the future would hold, but she was determined that she and her baby would face it together.
That baby was Antionette. Along with her mother, Antionette has been a spokesperson on behalf of the unborn since she was a child. In September of 2010, Antionette joined the Seventh-day Adventist Church, and in the early spring of 2011 she founded the ministry Mafgia. Taken from Scripture, the word "mafgia" (mafGEE-ah) is Hebrew for "intercessor." We are committed to interceding for the sanctity of human life at every level, from conception to death. Through education and thoughtful dialogue, we seek to take captive every imagination that has exalted itself above the knowledge of God.
What's more, Mafgia is a ministry dedicated to interceding for reconciliation, for the total and complete life-giving healing the Lord purposes to write on the heart of every post-abortive woman and man. We are committed to the message of redemption and the freedom that redemptive grace brings—total, complete, and possible, here and now.
Later that year at the 2011 Generation of Youth for Christ Conference in Houston, Texas, we met Antionette. When she shared her story with us, I realized as I stood there listening to this beautiful young woman that if I had not had an abortion, my firstborn would have been close to her age.
In the year that followed, we invited Antionette to come and share her story with our church and others in the area. The response was amazing. Everywhere she went, Adventist women opened up about a past abortion. It became very evident to me that I was not the only one suffering from a secret sorrow.
In the spring of 2013, I joined Antionette and became a part of Mafgia. The Lord blessed and the doors opened for us to provide education and hope to women and men of all ages. The letters we have received from as far away as Australia, Trinidad, and Ukraine confirm to us that there is a need for reconciliation and recommitment to the Great Physician, Jesus.
While helping the disheartened break free from their bondage and equipping those in need, our light shines like the morning sun, and restoration quickly appears; righteousness goes before us, and the glory of the Lord is our rear guard. We cry out for relief and the Lord answers and says, "Here am I." And the old waste places will be rebuilt, the foundations will be raised up, the breach will be repaired, and the paths to dwell in restored (paraphrased from Isaiah 58).
If you would like more information about the Mafgia ministry, please visit our website, www.mafgia.com.