ASI Focus on Giving
Living a Life of Ministry
Pat Humphrey
07/16/2008
It's amazing what you can accomplish when you dedicate yourself to God and simply allow Him to use you. That's exactly what Al and Jane Sines of Benton, Tennessee have done—and the results are phenomenal. This dedicated couple's desire to simply share God's love with His children has mushroomed into a multifaceted ministry that touches lives for Christ on a daily basis.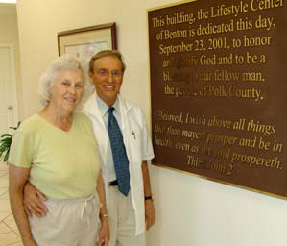 In 1998, God opened the door for the Sines to purchase airtime on a local radio station in Polk County, where Benton (population 1,200) is located. It's one of the poorest counties in Tennessee. Four Adventist programs—It is Written, The Voice of Prophecy, Your Story Hour and Got a Minute for Your Health?—aired daily. In September 1999, Al and Jane were surprised with an offer to buy the radio station at the cost of $180,000. "We'll offer you $70,000," they responded, knowing the offer would be refused. And it was.
But a month later, the Sines got another call. "We really want to sell the station to you," the owners said. After some discussion, the Sines came back with their original offer. "$70,000 and that's it," they said firmly. This time they weren't prepared for the response. "OK. Sign right here," the owners said, handing Al and Jane a contract. Writing a check for $20,000 as a down payment, it was a done deal, they now owned WBIN 1540 AM. A little stunned after the whole experience, Jane turned to Al and said, "Do you know what we've just done?"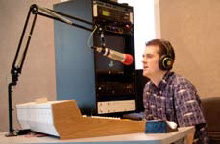 Perhaps they didn't at the time, but God knew, and there's no doubt that He was leading them. Now relocated onto the church's campus, WBIN airs 24 hours a day, 7 days a week in five counties, broadcasting the good news of salvation via a 3ABN downlink.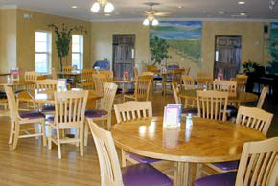 In 1999, when Al and Jane were helping to build a church in Benton, two women showed up at the construction site after seeing an advertisement about upcoming evangelistic meetings. "Where's Doug Batchelor?" they inquired. Living way out in the country, they had seen Doug Batchelor's program on the one channel they could receive. Liking what they heard, they wanted to see him in person. Though disappointed that Doug would only be appearing on screen, Jane was able to convince them to attend the meetings, and eventually they began attending church.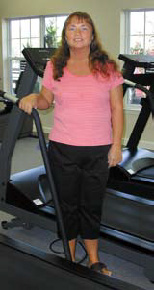 One of the women, Margaret Green, had a terrible smoking habit, but broke her addiction after Al and Jane prayed for her. She never smoked again. Margaret was eventually baptized and is a faithful church member today, serving the Benton church as head deaconess. She has also been instrumental in leading her husband and son to Christ.
By February of 2000, the church was completed; and a ribbon-cutting ceremony celebrated the church's debt-free status. But now that the church was completed, Al felt impressed that there was still more to do. And there was.
The following year, as a result of God's guidance and blessings, the Sines and the Benton church members rejoiced at the grand opening of The Lifestyle Center of Benton, which shares a campus with the church and radio station. A state-of-theart facility, the lifestyle center affords many opportunities for the entire church family to be involved in ministry. The lifestyle center includes The Vine, a vegan restaurant that seats 50 people, a large conference room, a sauna, a Russian steam bath, medical and dental offices, and a counseling room. It is a center for ministry where people's physical and spiritual needs are met every day.
"I pray every day that God will send us the right people whom He will touch through us," Jane says. And He does. "Every day someone comes to the restaurant, and we know we are there just for them," she adds.
Jane continues, "In the restaurant, the guests [often] ask specific questions on health and spiritual matters. We routinely have prayer with the restaurant guests. Free literature in the restaurant and the foyer is taken readily. One local minister of another denomination told us he is now keeping the Sabbath and is beginning to teach it to his congregation. He asked for more literature about the Sabbath."
Even the dental office is a place for ministry. Jane explains, "People often call the office and say, 'I was praying for a Christian dentist, and I opened the Yellow Pages and was impressed to come here.'" One day a teenager came into the dental office for services. As she sat in the waiting room, Jane noticed that the young lady's eyes seemed fixed on the large photo of Jesus with outstretched arms. "I noticed that you seem drawn to that picture," Jane said to her gently.
"Yes," the girl responded, "When I saw that picture I felt like Jesus was looking at me and calling me to change my life." That encounter created a wonderful sharing opportunity for the Sines, and a life-changing experience for a young person in need of Jesus.
The Sines refer to Al's dental chair as his "week-time pulpit." He prays with all his surgical patients and with others he feels impressed to pray for. He asks his surgical patients not to smoke for five days, and, if possible, starts them immediately on a plan to break free. And he teaches all of his patients about good nutrition, exercise, pure water, fresh air, and trust in God.
Because the center is located in an economically depressed area, the Sines have many opportunities to help people who are less fortunate. "In the dental office we pray every day for God to impress on our minds whom to help and how best to help them. Our main desire is to teach people how to fish; not just to give them a fish," Jane says.
Ultimately, the Sines' mission is to win souls. "We visualize every person who comes in as a candidate for heaven," Jane says. Al concurs, "It is a privilege to work for Him. We're not in it for the dollars and cents. We're in it for Him."