New Member Spotlight
Laymen Leading the Flock
Deena Bartel-Wagner
08/30/2009
Bill Schnorbus was head elder of the Cross City, Florida Seventhday Adventist Church, when He received a phone call from Mike Cauley, the Florida Conference President. "Our local conference was facing a budget deficit, and this meant that there were going to be layoffs," Bill recalls. "[Elder Cauley] told me that our church would be losing our full time pastor and asked if I would be willing to become the lay pastor."
At the time, Bill was scheduled to enter an accelerated nurse-practitioner program at a local university. He and his wife, Cecelia, knew their decision couldn't be made lightly or without prayer. After seeking God's guidance, Bill came on board as the lay pastor of the Cross City Adventist Church in 2003.
Cross City is a 65-member congregation filled with people who are involved in numerous ministries. Church members are active in prison ministries, men's and women's ministries, Pathfinders, the Coronary Health Improvement Project (CHIP), Signs of the Times ministry, and others.
"Our prison ministry team is active in several areas," says Bill. "Each Sabbath an elder holds services at the state correctional facility that is in the area." The Cross City church also works with a local halfway house and county jail.
Another aspect of Cross City's prison ministry is participating in the LAMB program organized by the Florida Conference. "The LAMB program is one that is designed to impact women inmates and their children," says Bill. "We provide various events and supplies for the children of [incarcerated] women in our area. It might be a birthday party or presents at Christmas. At the beginning of the school year we make sure that the children have the clothes and school supplies that they need." The Cross City church has participated in LAMB for five years now and currently is working with seven children.
The men's and women's ministries are not only serving the church family but are also reaching others in the community. "Our Women's Ministry group makes lap covers for local nursing homes and visits and sings to the residents," says Cecelia. They also make sure that local families facing financial difficulties receive food baskets, especially at Thanksgiving and Christmas.
As the men's ministry program got established, Bill thought about how to keep men interested and involved. "It seemed to me that we needed more action than just attending prayer breakfasts and meetings," says Bill. "I talked with some of the other men and they agreed that they wanted a more hands-on ministry."
Hands-on ministry is precisely what they got. Today a group of about 10 men provides a variety of services to the community on two or three Sundays every month. "The work we do varies with each project," says Bill. "We might be putting on a new metal roof or doing a roof-over. Other days we might be building a wheelchair ramp." The group will tackle just about any job from painting to construction, even lawn and bush trimming.
As they began working in the community, it became apparent that the men's group wasn't easily distinguished from regular contractors. Wanting to make people aware of their ministry, they purchased magnetic signs for their vehicles. The signs simply read "Men's Ministry, Cross City SDA Church." As a result, the group has received calls for help that might otherwise have never come.
This past Christmas the men's group partnered with the Marine Corps' Toys for Tots program. Meeting on a regular basis at Bill's home, they repaired and tuned up 65 bicycles that had been donated for children.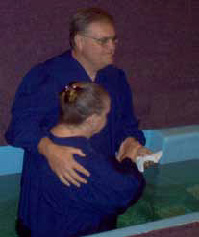 Another successful ministry at Cross City might seem unusual to some. "One day a member came to me and asked if we could begin a flea market ministry," says Bill. "After some thought and prayer several members decided that this was the ministry they were being called to do."
The flea market ministry is more than six months old now. The group distributes literature and takes prayer requests every Sunday at a flea market in nearby Chiefland. Each request is prayed over by small groups at Cross City that meet Wednesday and Friday nights and Sabbath mornings.
Recently a couple of Cross City members who work in a local nursing home noticed that some of the residents were reading books and literature being distributed at the flea market. They had no idea how the residents were receiving these materials. After a little investigating, they found the answer. "Another lady who works at that nursing home visits our booth every weekend," says Bill. "She picks out materials to distribute at the nursing home."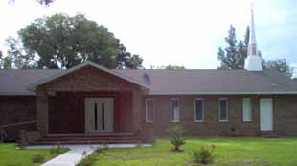 A CHIP program is forthcoming, spurred by requests from the community. "We had a very successful CHIP program for our members," says Bill. "People noticed the weight loss of some of our members and asked questions. This generated a lot of interest, and without even advertising we have had 21 people sign up for our [upcoming] CHIP program."
The Cross City church has a number of other ministries as well. These include working with a local battered women's shelter, supplying area magazine boxes with Signs of the Times, partnering with an interdenominational clothing and food bank and hosting AARP Safe Driving Programs at the church building.
The Lord has not only blessed the various Cross City ministries but also the congregation as well. A while back, the congregation decided to construct a new church building. With $114,000 in their church building fund, the Cross City members prayed over every aspect of the construction project and asked God to provide for all that was needed. "The Lord blessed this project a thousand times over," says Bill. "We completed the church and moved in debtfree with a total out-of-pocket expenditure of $175,000. The county has assessed our building at $640,000."
The impact of having a new building has been tremendous. When construction began, there were no babies in the congregation. Four months after moving into the new church, there were eight babies. "We had to turn one of the classrooms into a nursery," says Bill. "Our children's ministry has bloomed, and now we have kids everywhere. We had to build another building for Sabbath school classrooms."
By working together in so many outreach projects, the church has become a very tight knit family. "If you miss a Sabbath you get a phone call to make sure everything is okay," says Bill. "We've had members call and say they were going to be away for a Sabbath. They wanted us to know that everything was okay and they didn't need a phone call. They received a call anyway. We want people to know they are missed when they don't come."
The ministry of Bill and Cecelia Schnorbus at the Cross City church is a powerful testimony to God's ability to work through anyone willing to serve Him. "And we know that in all things God works together with those who love Him to bring about what is good—with those who have been called according to His purpose" (Romans 8:28).