Mission's Feature
Labor That Satisfies the Soul
Barry Mosier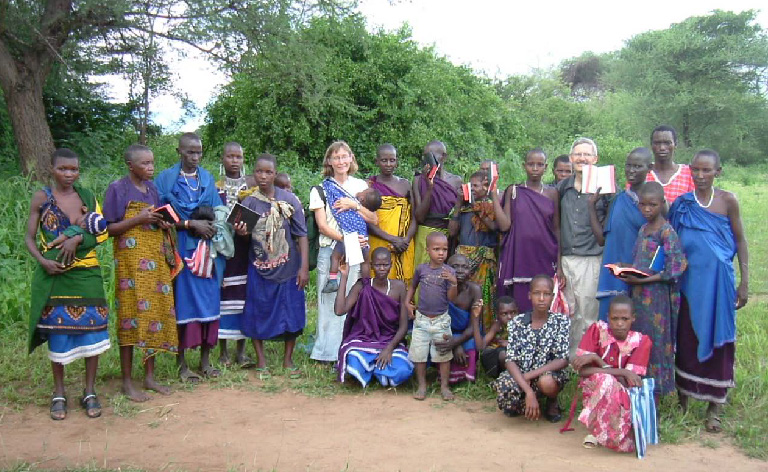 Sunshine shimmered on the waters of beautiful Lake Malawi as Ephraim was baptized. As I watched him publicly giving his life to Jesus, my heart leaped for joy. Only weeks before Ephraim was a witch doctor, using his evil instruments to curse people through the power of Satan.
At the end of our evangelistic meetings, he had given up his livelihood, and power and fame with the locals, to serve Jesus. When he later attended our evangelism training school at Kibidula Farm in Tanzania, and became a lay missionary, I felt that I was richly repaid for being a volunteer missionary in Africa.
Let's transition to another memory. Marybeth, my wife, worked feverishly over the limp little body. Four minutes of CPR and the breathing bag had failed to bring breath or a heart beat to this newborn baby. In desperation she dipped the lifeless form into a pail of hot water, then cold water. Over and over. "Lord, bring this child to life," she prayed.
Time lost all meaning as she fought for the life of this little baby. Finally, the eyes popped open, and the baby gasped in its first breath. Praise God! Satisfaction shone from Marybeth's face the next day as she watched the mother take home a perfectly healthy baby. That was just one of the 150 babies Marybeth has helped deliver over our years in Africa.
Isaiah 55:2 asks a simple question: "Why do you spend your labor for that which satisfieth not?"
Our family of six led a pretty comfortable life. We lived on a 50-acre farm near Dodge Center, Minnesota. My work as a certified public accountant was enjoyable, although there was often too much of it. Each year I promised my wife I would try to cut back at work, and each year I found myself working more.
We were actively involved in evangelism, Pathfinders and other church activities. We held a Bible study in our home on Friday nights and did friendship evangelism work with new church members.
However, the vast majority of people had little or no interest in spiritual matters. Time after time our church blanketed the surrounding area with invitations to various meetings, and incredibly few people responded. We wondered, "What about the millions in other countries who are hungry for the truth?"
I'll always be grateful to our local church family for their involvement in missions worldwide. As they brought missionaries from around the world to give their reports, we were inspired. "Maybe we could do this if God asked us to," we thought.
In 1993 Kim Busl invited our family to volunteer for three months at Riverside Farm in Zambia and Kibidula Farm in Tanzania. It was our chance to get a more complete understanding of Africa, not just a short two-week "honeymoon" mission field experience. We wanted to see what it was like to get sick there, for example. Also we wanted get to know the people, and we found that the African people really touched our hearts.
I would recommend an overseas mission trip to anyone contemplating long-term service. It's a way of testing yourself, to discover how adaptable you are to the culture and environment. Unless you find yourself loving the people in spite of their habits, different culture, even their smell, you will struggle to be an effective missionary.
Seven years later, we accepted a call to move to Kibidula Farm—a big step of faith. Marybeth struggled to leave the security of her country home. For me it was leaving the security of my business. Most difficult for both of us was leaving behind our 20-year-old daughter Laura, who was studying at Union College.
Our children had mixed reactions. Laura missed us a lot, and Jared remained homesick for friends until he returned to the United States for college a few years later. Keith felt right at home and jumped into evangelism and missionary work with all his heart. He has since founded Congo Frontline Missions.
It may be easier to begin serving abroad if you have younger kids who are less settled into American life. America is a very worldly place to raise a family, and there are many blessings in raising children overseas if you can home school, as we did, or somehow provide an education.
Over the last eight years we have grown to trust God in ways we could not have imagined in America. We know we live in the palm of God's hand and are sustained by the prayers of people back home. In times of trial we have grown to expect miracles.
And yes, there have been trials. After only two months in Africa, God miraculously spared our son Jared's life in a tractor accident. Last year four of our family—Marybeth, April, Andrew and myself— were in a horrific airplane crash in which 47 people were killed.
But God spared our lives and proved once again His ability to turn disaster into a chance to glorify His name. After the crash, we were privileged to praise God across the world through interviews with international news agencies. We have learned that the safest place in the world is wherever God calls you.
Blessings have far outweighed challenges over the years. One of those blessings is our four-year-old adopted African son, Andrew. He has given us a permanent bond to Africa.
Numerous unique opportunities to partner with others in furthering God's work have been another blessing. Through working with ASI, we had the privilege of distributing 1,150 bicycles and 5,000 picture rolls to frontline gospel workers. Together with Light Bearers Ministry, we were able to distribute 12 twenty-foot containers of literature in the Swahili language. The Roofs over Africa program helped us to provide metal roofing sheets for 1,400 churches in three countries. How can I compare the satisfaction from these projects with my prior occupation in America?
God has also fulfilled His promise to sustain us when we put our faith in Him, and we have not suffered. Our daily needs are supplied through renting out our house in America and through a small local stipend. I can promise you that if the Lord wants you to work overseas, He is well able to care for your needs. I also believe that if He is truly calling you, He can help you put a good financial plan in place before you leave. Planning ahead is not a lack of faith.
In October we said goodbye to our beloved Kibidula Farm and moved to Democratic Republic of Congo to join Keith at Congo Frontline Missions. On our final Sabbath more than 150 colporteurs gathered to thank us for our eight years of service in Tanzania and to wish us well in Congo. As they marched into the church singing and bearing gifts for my family, I thought about the 425,000 books we had distributed through them over the past eight years. How many people will be in the Kingdom from these books? Tears rolled down my cheeks as I saw the love for us on their faces. How does one compare this kind of joy and satisfaction with worldly wages?
Today, the words of Jesus are still true: "The harvest is great, but the laborers are few" (Matthew 9:37). Last year, as I investigated Keith's project in northern Congo, I met beer distributors who were arriving to start a business in the recently war-torn Kisangani area. I met an actor who had come to offer a therapy of sorts, helping local people by acting out on stage their emotions from the war. However, when I asked a foreigner to tell me how many missionaries had returned to the area, he replied, "They are all afraid to come back. Until now, not one has returned."
I wondered how it could be that brewers and actors had more courage than missionaries. Are we serious about finishing the work?
I can touch a thousand times as many lives here in Africa as I could in America. As far as whether or not foreign missionaries like me still needed, I can say from experience that the combination of foreign missionaries and local workers is a good one. As foreigners, we bring a broader perspective, as well as credibility and accessibility to those who want to help financially. The locals know the area and how to reach the hearts of their people.
Are you satisfied with the results of your work? Or do you feel the Lord urging you to step out in faith and work overseas? Pray earnestly, and the Lord will surely lead the way. I assure you, working for Jesus satisfies the soul like nothing else can.
"I heard the voice of the Lord saying, 'Whom shall I send? And who will go for us?'" (Isaiah 6:8)