Feature
Into the Biblical World: A Journey of Faith
Tony Moore
01/01/2011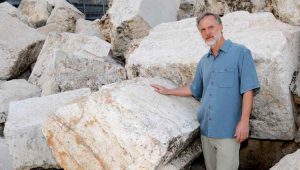 When I became a Christian in 1972, I developed a desire to visit the Holy Land. The following passage from Desire of Ages resonated in my
heart:
"Many feel that it would be a great privilege to visit the scenes of Christ's life on earth, to walk where He trod, to look upon the lake beside which He loved to teach, and the hills and valleys on which His eyes
so often rested. But we need not go to Nazareth, to Capernaum, or to
Bethany, in order to walk in the steps of Jesus. We shall find His footprints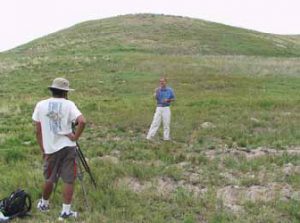 beside the sickbed, in the hovels of poverty, in the crowded alleys of the great city, and in every place where there are human hearts in need of consolation. In doing as Jesus did when on earth, we shall walk in His steps" (p. 640). While pastoring in Southern New England, I took a university extension class on Biblical archaeology that captured my imagination. In 1986, I had the privilege of spending a week in Egypt and a week in Jordan before taking a five-week course in archaeology from William Shea of the Biblical Research Institute. As I traveled, I discovered that it was not the "Holy Land" but rather the "Bible Land"— where the stories contained in the Bible actually transpired. I will never forget visiting Banias for the first time. Today, Banias is a beautiful national park in Israel and one of three primary sources of the Jordan River. Anciently, the water flowed from a cave before tumbling over a waterfall and uniting with two other streams.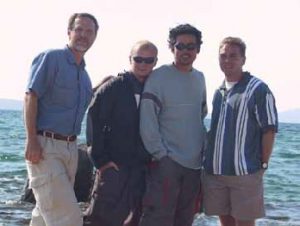 Because it was the source of the Jordan, the Canaanites worshiped
Baal there. Later, the Greeks dedicated the site to Pan, their god of
nature. Herod received the area as a gift from Augustus Caesar and
built a temple for his worship. Herod's son Philip made it his capital
and called it Caesarea Philippi. Of the hundreds of villages in the land, Jesus brought His disciples there to ask the question, "Who do
men say that I am?"
Peter responded, "You are the Christ [Messiah], the Son of the living God." It was the first time Jesus revealed His Messiahship to them—and the first time He accepted their worship. And all this occurred in an ancient Canaanite high place where Baal, Pan, and Caesar were worshipped. In effect, Jesus was saying that He was above all
of those gods!
This stirred my imagination, and I began to explore the connections between the geography, local lore and the Biblical text. Eventually, my passion grew into a pre-evangelistic slide series called In Search of Meaning from the Sands of the Past, developed in the 1990s to
share these fascinating stories and connections with the
world.
The series proved effective at attracting guests to our meetings. The fifth night, "Patmos and the Seven Churches," was the perfect transition into a public series on prophecy. That five-part series required eight slide
projectors and a 21-foot seamless screen. Today it fits conveniently on a computer thumb drive and continues to be an excellent outreach tool attracting people with little interest in prophecy.
In 1999, I hosted a tour for Southern California pastors that traced the footsteps of Paul through Greece, Turkey and Syria. With me came Danny Chan, the youth pastor at the Norwalk Seventh-day Adventist
Church where I was the senior pastor. Danny brought his video
camera and filmed me teaching at various locations. At one point,
he said, "Tony, you don't have to use slides any more in your evangelistic meetings. We can make movies of you
teaching!"
My initial thought was, That's why I'm the senior pastor and you're the youth pastor. We can't make movies. We don't know how to do that, and we certainly don't have a budget for it.
After we returned home, Danny made a two-minute demo that featured epic music, maps, and footage of me teaching in Tarsus. I thought, Wow! Maybe we really can make movies! Since then, I've continually thanked the Lord for the enthusiasm of youth.
I began writing scripts and eventually received permission from the church and local conference to film an on-location evangelistic series. In April 2001, we set out to produce the story of the Apostle Paul. My "crew"
included Danny Chan and Simon Liversidge, who both served on my pastoral staff at Norwalk. A member of Danny's youth class, Pecos Frasier, also joined us.
We were all novices in the world of film, but we had desire and passion and were asking for God's guidance. We researched and purchased equipment before catching our plane to Thessaloniki, Greece. I'll never forget unpacking and assembling our gear for the first time after landing and securing our rental vehicle. That 30- day whirlwind trip led us through Greece, Turkey, Syria, Jordan and Israel.
We would return to Greece and Italy in the fall of 2001 to complete the series, In the Footsteps of Paul. I arrived a week early to research and write, with plans for my crew to come later. On September 11, I drove from Athens to Thessaloniki. It was a spectacular day, bright and
sunny, and a delightful eight-hour drive along the coast. Upon arriving, I went to an Internet café to check my e-mail and make sure everyone else was safely on their way. I was shocked to see what I thought was an
Internet hoax featuring planes flying into the twin towers of the World Trade Center. When I realized it was no hoax, I felt completely isolated and alone. Fortunately, my crew was already over the Atlantic and didn't have to return to the United States. Once again, God richly blessed our efforts and opened doors for us to weave Biblical teachings into Paul's life journey.
Right before our first film trip in May 2001, It Is Written invited me to join their staff. I wanted to complete the evangelistic project we'd started for the Norwalk Church, so I continued as Norwalk's senior pastor until the end of the year.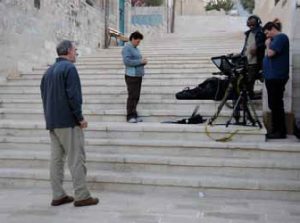 We set up an editing bay in the back room of the church and began to
tell the story through film. That's why the series on Paul is called "A Norwalk Production." It was completed in time for a fall evangelism project, and I continued working on it after starting with It Is Written.
I often worked on the project on my laptop while flying from place to place. On one trip to Montreal, my seatmate was a computer programmer from San Francisco who was traveling to a jazz festival. He kept watching
my computer screen, so I asked if he wanted to view an episode. After he'd watched two, he said, "Wow, this is fascinating! How can I get the entire series?"
On another flight from Los Angeles to Boston, a young woman who worked for the California State University system sat in my row. She was scheduled to make a presentation at Harvard the following morning.
She asked about my work and then informed me she was not religious. I just kept working, and she kept watching my computer screen. Finally, I asked her if she would like to watch an episode. She agreed and said, "In
college, I took a class on the Bible from a feminist perspective, but this is fascinating. How can I get the series when it's finished?"
After making an emergency landing in Las Vegas, I ended up sitting at the gate by a gentleman who was charging his iPod while we waited for a connecting flight. He was an MD, PhD and chief medical officer
for the Red Cross in New England. When he discovered that I produced Biblical documentaries, he said, "I'm not very religious." I was quickly getting used to that response.
But, like the others, he kept watching my screen, and I eventually asked, "Would you like to see an episode?" When it was over,
he declared, "This is fascinating! How can I get the series to share with my wife?" Experiences like that were repeated so many times that I began wondering whether I was destined to minister at 35,000 feet!
In the fall of 2003, I sensed God leading me to launch The Biblical World as a full time, nonprofit supporting ministry, so I submitted my
resignation to It Is Written. From that point, I continued working with a growing team to develop more materials like the series on Paul. Specifically, God impressed me to prepare materials for doctors and dentists to share with their patients, and for people to share with their friends and neighbors in their own homes.
The Hope Channel eventually requested permission to air In the Footsteps of Paul. After one year, we also released the series to Safe TV and 3ABN. We were amazed to see how God was using a series developed by media novices to reach people all over the world.
Soon we began developing PowerPoint slides and fill-in-the-blank outline printouts to supplement the television presentations. David Johns of Present Solutions produced lovely frame displays for digital teaching
content that would become part of the final DVD teaching series on the life of Paul. Ron Lanham, a Norwalk church member and graphic designer, helped transform the simple, text-only review guides into beautifully illustrated study guides, complete with application
questions, Bible studies and maps. Today, the package is being translated into several languages, including Romanian, German, French, Chinese, Polish and Czech. Teamwork transformed the series into an active, handson, small group, public evangelism tool that is being used around the world.
Patti Hare, a member of the Daytona Adventist Church, attended meetings I presented at the Florida camp meeting. Inspired by what she heard, she purchased the series, hoping to use it for a church vespers program or at prayer meetings. Instead, she ended up presenting the series in her own home, sending out postcard invitations
to her neighbors and inviting them to her condo overlooking the
Atlantic Ocean.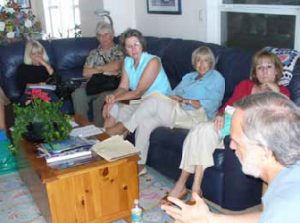 While visiting the Daytona area in 2008, I was delighted to visit her
small group and teach the class on a lovely Wednesday afternoon.
I was thrilled to meet eight guests attending the meetings in Patti's home every week. None were members of her church.
Since then, Patti has married Bud Swensen, and they split their time between Florida and Arizona, where they regularly host small groups in both places. Patti enjoys sharing her infectious enthusiasm for the In the
Footsteps of Paul series from our booth at ASI conventions. She can speak from genuine experience, and has passed the torch to many others interested in establishing small group ministries in their homes.
It has been an interesting journey—leaving the world of secure paychecks and denominational employment after 25 years as a pastor, and trading it for the uncertainty of operating a nonprofit ministry. It has been
both severely challenging and extremely rewarding. It's a transition I couldn't have made without my most important teammate—my wonderful wife, Helen. She loved being a pastor's wife and enjoyed the ministry opportunities the position afforded her. But she, too, has been passionate about the evangelistic potential of the Paul series, and
has fully supported our decision to launch The Biblical World ministry, despite tremendous personal costs. The Lord has blessed and continues to open doors for ministry opportunities. And the bills are always paid.
The challenges we've faced pale in comparison to the privilege of preparing evangelistic materials that have eternal significance. During the past four years, we've been working on Tracing the Footsteps of Jesus, a
new 28-episode series on the life of Jesus filmed entirely on location in Israel and the West Bank. I have spent 7 of the past 42 months in
"the land" working on that project. Helen has accompanied me on
most of the trips.
Generous support from underwriters, Centurion donors and ASI
special project funds has allowed us to complete the filming and editing
of this wonderful new series that will provide yet another powerful
approach to small group and public evangelism efforts. We have some new team members this time around. Marc Elysee, a professional conductor, is preparing a musical score for each episode. Dr. Fred Mantz and Bogdan Wwarjonek shot pictures to help illustrate the series.
Frederic Leduc and Dolson Falau, of Creavisual, have accepted sacrificial wages to film the series and monitor the audio. My original limited vision for ministry has come to life and vastly increased in scope because of the creative collaboration and incredible teamwork by a growing list of
individuals willing to sacrifice to accomplish something no
individual could do on his or her own.
By God's grace, Tracing the Footsteps of Jesus is finally
being completed and will soon be released into the
Lord's hands to bless people around the world through
small groups, public evangelistic outreach, television
and the Internet. Helen and I are grateful and praise the
Lord for allowing us to be part of this journey of faith
into the Biblical world!