Identifying God's Vision for Overcoming Financial Challenges
Ted Huskins
07/15/2012
As you examine the financial challenges your ministry is facing, it's easy to become overwhelmed as you try to decide where to start. How do you overcome financial challenges and effectively fund the ministry to which God has called you?
The members of the Beaufort (S.C.) Seventh-day Adventist Church desperately wanted their own church building. They had been renting a church for seven years and lacked facilities to do outreach. Dreams, hopes, and prayers for a new building had been ascending for at least seven years. Blueprints were eventually drawn and purchased, as well as a piece of property on which to build their new church home. Donations to the church building fund were anything but robust—about $700 per month. There was enthusiasm about building a new church, but not enough to motivate generous giving.
The church's new pastor, Jason Belyeu, had an idea: "Let's get someone to help us—someone with the experience and innovation to facilitate our success." Our ministry, Coleman Stewardship Services Inc., had successfully worked with Pastor Belyeu's parents' church in Florida, so he contacted us for assistance. We quickly began to design a stewardship campaign that not only would generate needed funds for their new church home, but also lead the Beaufort members into a closer walk with Christ.
As we began to explore the challenges and opportunities facing the Beaufort church, we first realized that the set of blueprints they had purchased was too aggressive. The price tag associated with such a building was far and above what the church could reasonably expect to raise in a three- or even six-year period, and there didn't seem to be a way to effectively phase the building.
I am often faced with this type of situation when working with churches and ministries. Very few ministry leaders are familiar with the complexities of building or the reasonable expectations of a capital campaign. Many are not careful in choosing their partners and start their project upside down. For the Beaufort church, an even bigger problem was the need for a godly vision. This lack of vision was preventing financial growth and positive momentum.
There are a number of recognizable and predictable factors that create or contribute to financial challenges, whether for ministries or individuals. The challenges start where the ministry begins—with vision. Everything rises and falls on vision.
Proverbs 29 says, "Without vision people perish." Vision is essential. But the concept of vision is widely misunderstood. Ministry leaders will say, "We have a mission statement, why do we need a vision statement, too?"
A mission statement directs what missionaries do, giving them an understandable and repeatable mandate of service. In contrast, a vision statement is crafted by people who are in tune with God's will, and who both practically and prophetically see God's journey for their organization. A vision statement guides the mission statement and assures that every ministry initiative supports and facilitates the vision. It involves not only understanding and communicating, but hearing.
What does that mean? A common and detrimental mistake is trying to buy into a canned vision, which, in a nutshell, is saying: "Hey, look at what they are doing, it's working for them, so it's bound to work for us, too." Following the good examples of others isn't bad, but it may at times be misguided. True vision is God's unique calling on the hearts and minds of individuals and ministry leaders. God's visions for your ministry is as special and unique as God's will for you as an individual.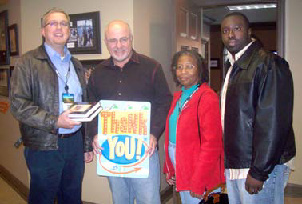 The Beaufort church had a real heart for community outreach and for reaching people who would typically not find their way through the doors of an Adventist church. As we began to unpack God's vision for them, it became obvious that God had a special ministry for them—a ministry that would cause them to rethink their plans for a physical structure. Providentially, a shopping center that was for sale came to the church's attention. This shopping center had housed a thrift store, a health club, a restaurant, and several other vacant store fronts—more than enough space for worship, a school, a day care, and other Christian community outreach ministries. All but the restaurant was for sale. It presented a unique opportunity for service and ministry.
Some ministries would have ignored this opportunity because of prior plans or investments. However, the shopping center was the very thing the Beaufort Church needed to facilitate the ministries God had for them to do. Unfortunately, the property was already under contract with another group. Pastor Belyeu and the Beaufort church members began to pray. They asked God to thwart the other contract if He wanted them to occupy that space. The other contract fell through, and the Beaufort church made an offer for $100,000 less than what had previously been offered, and by God's grace their offer was accepted.
Ninety days later, the church closed on their contract to buy the Salem Village Shopping Center. Today, the Beaufort church has completed the intensive phase of their capital campaign. The church has commitments equal to five times their annual tithe, and they are in the process of renovating the shopping center to be God's strategic mission post for community outreach. The campaign united church members around a vision of giving. They have seen God provide through sacrificial donations by others, which has strengthened their faith. Once they recognized and embraced God's vision for them, understanding and communicating that vision became less complicated.
When God reveals His special calling for your ministry or church and you communicate it compellingly, you will achieve the financial momentum you need, support for your ministry will grow, and more importantly, the spiritual lives of your ministry participants will grow deeper and more genuine. Financial challenges are more often than not the result of failing to hear and identify God's vision for a particular ministry. Helping a ministry to identify God's vision for them is where we start when asked for assistance with a capital campaign. We want to make sure the ministry leaders are hearing God's vision for them, that the vision is crystal clear, and that it is being communicated in a compelling fashion with the hopeful result that God's people will also embrace and support that vision.
We worked with another ministry that had been relevant and vibrant for years, but had experienced a drop in donations and support to fund their annual needs. Their facilities were also in great need of restoration. After talking with the ministry leaders, it became evident that they had failed to keep up with escalating changes in the world and were still trying to communicate a badly outdated vision in language that screamed irrelevance.
God's vision and calling on our ministries may change after all, even as Christ's ministry and calling developed over time—from growth and service, to teaching and healing, to ultimate sacrifice. Christ remained effective and relevant by staying in constant connection with the Father, moment by moment. Because of that connection, Christ's ministry never stagnated.
Ministries often make the critical error of attempting to solicit financial support before they have discovered God's true vision. Further, that vision must be rediscovered and adjusted, if necessary, on a regular basis. Finally, God's vision must be coupled with a genuine and lasting concern for the spiritual growth and development, not only of the ministry, but of donors and supporters as well.
People who daily remain connected with God in new and fresh ways can see His hand moving—in their own lives and in the world around them. Their hearts are touched, and they become believers in the truest sense of the word. Martin Luther said, "People need to be converted in their heads, their hearts and their purses." Ministries who care about people and compellingly communicate a vision that has been given to them by God will see challenges turn into opportunities for God to work miracles.