Youth's Mission Feature
Healthy Choices for Kilmacow
Deena Bartel-Wagner

In the southeast corner of Ireland lies County Kilkenny. The saying "Ground without bog, fire without smoke and land without coast" is an apt description of the place.
Travel there and you would discover the quintessential Ireland of the imagination. Rolling green hills, wandering roads and lanes lined with moss-covered stone walls. One might be tempted to stop and smell the bog orchid or admire the lanceolate spleenwort.
But for ten students from Oklahoma Academy (OA), memories of County Kilkenny involve more than sightseeing tours. For two weeks they learned about Irish culture and interacted in a very special way with the local residents.
"Our academy choral and string ensembles were scheduled to perform in Ireland," says David Preisner, a math teacher at Oklahoma Academy. "After some discussion, it seemed like a natural choice for the seniors to spend an extra two weeks in Ireland, as part of their senior trip."
Preisner contacted David Neal, president of the Irish Mission. He connected them with Jeff and Annemarie Freeman, missionaries in Ireland from Adventist Frontier Missions.
Next came deciding what would be the best use of the seniors' talents and abilities. "On past senior trips, construction of buildings has been one of the activities that the students have done," says Priesner.
One of the greatest needs in the village of Kilmacow, in County Kilkenny, is practical education regarding healthy living habits. After discussing this need with the Freemans, it was decided that a health expo in Kilmacow would be the seniors' project.
Before the health expo could take place, the students went through some important training. "We spent time learning about Ireland and the people there," says OA senior Oliver Bragg. "We also reviewed the materials we would be presenting and how to answer questions that the expo participants might have for us." At the end of each day the students spent time with Jeff Freeman in a debriefing session. This helped them internalize more of what they had learned throughout the day.
Then the students went into the community of Kilmacow, passing out flyers and inviting residents to the health expo, which was held in the Kilmacow Community Center's gymnasium. Some of the students worried that they might hold a health expo and nobody would come. But they weren't disappointed.
200 people attended—a significant number when you consider that only 2,000 people live in Kilmacow.
"I thought [the expo] would be a challenging opportunity," says senior Bethany Swart. "It took me outside my comfort zone. At first I was a little nervous about finding common ground with the Irish people, but it didn't take long to build friendships."
"The health expo was pretty complete," adds fellow senior Joe Hollifield. "It was based on the eight laws of health. Some of the booths that we had included an exercise booth with a stair stepper and monitoring of resting pulse versus active pulse, an area where people could get a free massage, a body mass index reading, and one where they could learn about the benefits of water."
At the final booth, the attendees received a printed health report detailing the changes they could make to improve their health. They were also offered one-on-one health counseling.
But the expo wasn't the end of the effort. "The Freemans are following up on the work that we did while we were there," says Preisner. "They will continue to work with those people who wanted more counseling in the area of healthy living."
The expo also opened the door to further health-related outreach. As part of his work in Ireland, Jeff Freeman volunteers at a high-risk youth center in the nearby city of Waterford. The center's director learned of the health expo and asked if the OA students could present it at the center.
At first, the OA seniors struggled with what exactly to say as they reached out to the center's youth. But as the program progressed, the youth began asking questions and the OA students were able to talk with them about deeper topics rather than just surface conversation. "We really enjoyed working with these kids and learning more about them and their culture," says Oliver. "Knowing that my example was making a difference caused me to ask myself, 'What can I do everyday to impact the people I am around?'"
As the time to leave Ireland drew near, some of the young people from the youth center presented an idea. They had been deeply impacted by what they learned at the health expo. Some had decided to change their eating and drinking habits. Others gave up smoking.
"A number of these young people wanted to share what they had learned with other people," says Joe. "They wanted to give a health expo themselves in Waterford."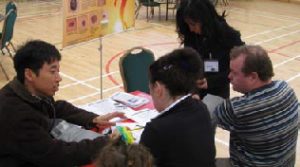 It was decided that all of the material and equipment would be left with the Freemans, and that Jeff would give the same training to these Irish youth that the OA seniors had received.
Soon after, the Waterford expo was held. And it is hoped is that these young people will continue to share with their countrymen the importance of healthy living and good choices.
"Although this wasn't a typical senior trip, it was a highly successful one," says Priesner. "I believe one of the crucial things to its success was that the Freemans had already laid groundwork in the community and now they are following up on our efforts over the long term. This would really be necessary for this kind of outreach."
The trip also had a powerful impact on the OA seniors, including Bethany, Oliver and Joe. Today, they are seeking ways to share with others that they come in contact with daily.
Oliver wanted more interaction with other cultures and is spending January-June 2009, serving at an orphanage. Joe is now studying massage therapy, and he's stayed in contact with a young man he met in Ireland. Bethany is training to become a dental hygienist and hopes to travel to other countries to participate in health-related outreach.