Feature
He Must Increase
Christine Kim
08/30/2011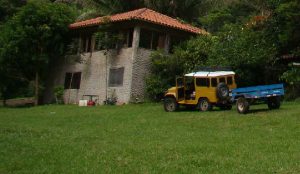 The flight was long. It seemed even longer because I couldn't comfortably sleep. I was apprehensive, nervous, exhausted and excited to see my sister, Anita, and her family again. She and her husband, Dosung, had left their comfortable, resort-like cabin in beautiful western Montana more than a year ago to serve with their three sons, Ben, Ryan and Justin, in a remote Bolivian jungle. I had never quite understood why, even though they'd tried to explain it to me many times—most recently last August at the ASI convention in Orlando.
Dosung, a dentist and pilot with a heart for mission service, had returned to the United States due to an unexpected emergency and was accompanying me and my parents, both in their 80s, back to Bolivia for a visit. It was a huge relief to know he would be with us when we arrived. It kept us from having to figure out what to do and where to go.
I had a lot of time to think on the journey south from Maryland. My spiritual life was nonexistent. I had been depressed for some time and had pretty much turned my back on God. I wasn't expecting much from the trip. I didn't figure anything could break through the thick, macadamia-nut shell around my heart. The wall crumbled a little when we landed at Viru Viru International Airport in Santa Cruz and I saw Anita and the boys waiting for us with smiles and open arms.
We grabbed breakfast in one of the two airport restaurants, loaded our luggage into Dosung and Anita's "brand new" yellow 1976 Toyota Land Cruiser and decided to do some open air shopping before heading into the outlying Santa Cruz jungle. At the local supermarket, we lunched on lukewarm fruit smoothies and a giant veggie pizza before heading toward our ultimate destination—Espejillos.
The road to Espejillos…where do I begin? To say it's the worst road I've ever been on is a gross understatement. On a good day when conditions are dry, the trip still leaves you feeling like your internal organs have been dislodged and your brain is buzzing. When it rains? Forget about it. You're stuck. The "road" takes you through two rivers and into ruts the size of mini gorges. I was so proud of my aging parents for making the trip in one piece, mostly without complaint.
We endured one hour of road torture, turned a corner, and there it was: Hotel Espejillos. It was beautiful. A lovely haven in the middle of nowhere. It was built to be a hotel, but more closely resembles a slightly upscale American summer camp. It's the property Dosung and Anita have acquired to establish an evangelism school and wellness center.
As we pulled up to the compound, a group of people cheered and waved enthusiastically.
"Is that for us?" I asked.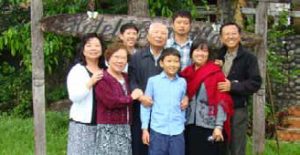 "They're probably happy to get off work a little early to greet us," Anita laughed.
The first order of business was a tour of the facility. There's an open dining area and several rooms on the second and third floors, each with their own bathrooms. There's even running water and flushing toilets, with limited hot water warmed by a solar tank on the roof. The bar has been converted into a laundry area, and trash is burned in the burn pile. There isn't any electricity, but a couple of generators provide power for classroom PowerPoint presentations and kitchen appliances.
The daily schedule began with personal Bible study and prayer at 5:30 a.m., followed by group worship, breakfast, classes, lunch, work in the field, dinner, evening worship, classroom study, and lights out at 10:00 p.m. Just reading the schedule exhausted me, yet the students were always happy and laughing and really seemed to enjoy each other and the entire experience. They even seemed to enjoy the field work, which wasn't easy by anyone's standards. From morning till night I heard laughter, and it amazed me. Many were there under conditions of personal sacrifice. Some had traveled long distances to get there.
After the first two or three days of settling in and getting used to the routine of things, something hit me that really made me take a hard look at myself. From the start, my parents and I had been complaining about the very real hardships—aches, pains, mosquitoes, grasshoppers, snakes and spiders, among other things. It just seemed like the natural thing to do.
But then I noticed that Dosung, Anita, Ben, Ryan and Justin never complained about anything. Ever. And, at least in my view, they had plenty to complain about. Their living conditions were primitive. I saw them fall into bed each day, exhausted and spent, and then start all over again at 5:30 the next morning.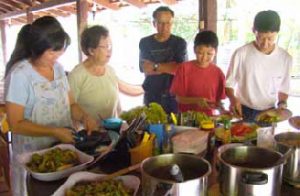 One morning, Ryan woke up at 4:00 a.m. to do his laundry, because he couldn't squeeze the time in during his daily work schedule. He didn't complain. He just did what he needed to do. It wasn't typical behavior for a 16-year-old boy as far as I was concerned.
One morning, while working in the kitchen, my mom and I asked Ben, "How is it that you work and work so hard and never complain? It seems we are always complaining. What is your secret?"
Ben, then 17, was silent and thoughtful for a while, which is his way. And then he quietly replied, "I must decrease; He must increase."
Such wisdom from a young man.
I took that wisdom home with me and, after crying harder than I'd ever cried before, I decided I was tired of living a selfish, meaningless life and finally gave everything to the Lord. I am most thankful to have a Godfearing family who has always pulled me back from my self-destructive ways. I am thankful Dosung and Anita and my three nephews were willing to follow God's call to work in Santa Cruz, Bolivia. I now understand why.
"I must decrease; He must increase."