ASI Members in Action
God Made a Way
Deena Bartel-Wagner
03/31/2016
A popular Christian song says, "God will make a way, when there seems to be no way." The evidence of this can be seen in the outreach of Mission College of Evangelism and the vision of Louis and Carol Torres.
As a teenager, the last thing on Louis' mind was teaching someone how to win others to Christ. During a turbulent adolescence, Louis was more interested in music, fame, power and money. After losing his mother to cancer, he turned to the world for comfort but discovered no peace there. As music became the central focus of his life, he believed that performing and fame would be what he needed.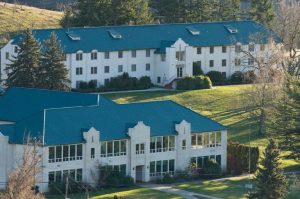 Louis thought he'd made it when he was asked to sign with Bill Haley and the Comets as the bass guitar player. Instead, the longing for something more was pulling at his heart. When he made the total surrender to God, Louis found his life turned upside down and couldn't wait to share his love for Jesus with others.
As Louis and Carol shared the gospel with others, they began to see a need for training gospel workers. "All during our ministry we had been training people to tell others about Christ," says Louis. "We recognized that specific techniques helped people have the confidence to share Jesus with others. Carol felt impressed to write a training curriculum, but we had no idea when or how it would be used. We believed that when the time was right, God would take our efforts and use them."
For the next 15 years Louis and Carol taught others the techniques as they held evangelistic meetings in churches. They still dreamed of an evangelistic training school but didn't know how or when it would become a reality. Their ministry took them from the plains of the Midwest to the large cities of the East.
"The more we worked in evangelism, the more we saw a need to utilize the laity," says Louis. "I was particularly interested in training youth to participate in evangelism. We put this into practice in the Greater New York Conference by encouraging and mentoring young people to hold meetings in the summer."
In 1995, Louis and Carol were invited to open an evangelism training school on the campus of Black Hills Health and Education Center, an ASI member organization. The first three-week course was held that fall, and a positive response encouraged the Torreses to plan a full threemonth-long evangelistic training course.
"That was truly the beginning of Mission College," says Louis. "As word spread, people from all over the world applied to come and study with us. During that first three-wee
k course we had 20 students. When we announced the beginning of the three month course, we had 40 students attend."
Louis and Carol began to envision six evangelism training schools located throughout the North American Division but couldn't have imagine how God would lead.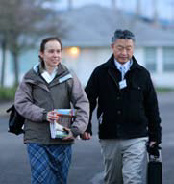 Today over 800 students have graduated from the training that the Torreses have provided. Evangelism schools have been established by some of these graduates in places like Germany, Australia, Switzerland, Norway and Michigan.
After the September 11 attacks, Louis and Carol were impressed that there was a great need to open a branch of Mission College near a major metropolitan center. It wasn't long before they once again saw God making a way for His work. "Early in 2002, we were asked if we would consider moving Mission College to the former campus of Laurelwood Academy in Gaston, Oregon," recalls Louis. "We recognized that this would open the opportunity to work in the Portland metro area. It didn't take long to realize that God was using this opportunity for Mission College to have access to a large city where we could further equip our students in evangelism outreach. We moved to the campus in the summer, and our first classes were held in the fall of 2002."
Students who enroll in the Applied Ministries course receive a solid grounding in all areas of evangelism. To ensure that they fully understand the beliefs of the Seventh-day Adventist Church and are able to teach them to others, each student is required to spend sixty hours carefully studying each of the doctrines from a Biblical perspective.
Additionally, students are trained in personal evangelism, public evangelism, pastoral evangelism, prophetic interpretation (with an emphasis on Daniel and Revelation in the context of both endtime events and the character of Christ and his role in the plan of salvation), prophetic guidance, church history, homiletics, community health education, natural remedies, Christian sales, personal finance and stewardship, and emergency field medicine.
During the first few weeks of training, students are led through the principles of evangelism, door-to-door work, learning how to find people interested in Bible studies and how best to interact with people. "We have trained Bible workers accompany the students to model what they need to do," says Louis. "We also have a time of debriefing following work in the field. This allows us to address any special challenges that a student may be facing."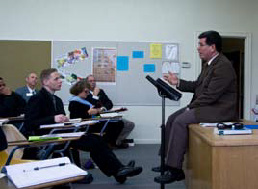 Even though students gain the equivalent of 40 hours of college credit – transferable to Atlantic Union College, Pacific Union College or Andrews University – they don't do it all through book learning. "We want the students to have the experience of leading an evangelistic campaign," says Louis. "They are involved in everything from the planning to working at the nightly meetings. Additionally, they give Bible studies, do visitation and help people make the decision to give their lives to Christ."
Since Mission College began, more than 90 of its graduates have become full-time pastors and over 200 are engaged full-time as Bible workers. "Sometimes people have the misconception that if they come to Mission College, it means the end result will be that they have to enter full-time ministry," says Louis. "Actually, most of our graduates return home and use what they have learned to be more effective in their communities and neighborhoods. The training that our students receive is invaluable as they continue their lay ministry among their friends and neighbors."
As Carol and Louis labored over an evangelism training curriculum nearly 30 years ago, they knew God would make a way even if it seemed there was no way. Today, they continue to believe He leads as the work of Mission College continues and many are brought to the foot of the cross.