Feature
God Leads to Guatemala
Duane L. Brown
02/28/2015
When Duane and his wife, Mary Brown—both certified public accountants and members of the Madison Campus Seventh-day Adventist Church— responded to God's call to Guatemala, little did they realize the potential impact that decision would have on their lives. Duane had for years already maintained a strong mission outreach focus through involvement with projects such as Helping Hands, a volunteer church building group, having built over 40 churches across the Kentucky-Tennessee Conference. He regularly speaks at churches throughout the conference as the need arises. Mary, along with Ervin Brown and Claudetta McMurtry, is co-owner of the firm Brown, Brown and Associates PC, with offices located in Springfield, Clarksville, Goodlettsville, Knoxville, and Sevierville, Tennessee. Brown, Brown and Associates maintains a plentiful supply of free Bible study helps and Christian literature in its office waiting areas for clients to take home and read. In late 2013, new offices were acquired in Knoxville, Tennessee. Duane has personally distributed more than 500 copies of Happiness Digest books to these new clients.
Although Duane and Mary actively participate and support many local mission outreach programs, they only recently became involved in an international mission project. Through an interesting series of events, God arranged for a local group on a mission trip to Guatemala to be introduced to The Instituto de Capacitacion Adventista del Peten (ICAP). ICAP is an Adventist secondary school that serves 375 to 400 students in rural Northern Guatemala near the Belize border. The land on which the school is located is an asset of the Guatemalan Seventh-day Adventist Union Mission. International Children's Care has been responsible for the operations and administration of ICAP since 1991. The majority of the 100 to 120 new students admitted each year are not Adventist students. The faculty has a strong spiritual focus, and they are dedicated to sharing the gospel with each student. Twice each year, a week of spiritual emphasis is conducted at the school, and as a result 90 to 100 students are baptized and become members of the Adventist church. The students are very active in ministry in the area villages. They assist in branch Sabbath schools and small remote churches. Many of the local churches can trace their beginnings to the ICAP outreach programs.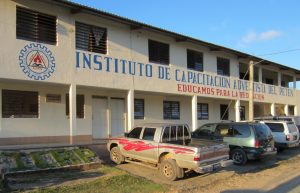 ICAP offers academic education in accounting, teacher training, and home economics, as well as adult education preparation for the GED. ICAP has a number of specialized programs that allow graduates to enroll for an extra fourth or fifth year in technology programs like agriculture and auto or diesel mechanics, among other things. The school has an excellent reputation in the community and with the government.
Duane and Mary responded to that call to participate in the 2012 mission trip. Duane was appointed chair of the Visioning Team. After careful study, one overriding concern emerged: healthcare is essentially nonexistent for the Guatemalan people in remote villages.
The 2012 medical mission team saw more than 1,300 patients, and the critical need for qualified healthcare providers in the rural areas of the country was the recurring theme. Upon further investigation and additional mission trips, it was learned that many families in remote villages had not seen a healthcare provider for three or more years. A child with bloody diarrhea was seen and treated—the child's family believed that bloody diarrhea was normal for their child because it had occurred over such a long period of time. One remote government clinic had one technician providing critical healthcare services for the people in 25 villages, and there was one physician who spent one day each month at that clinic. A large number of rural clinic buildings in these areas are currently unstaffed because of a lack of qualified nurses or doctors.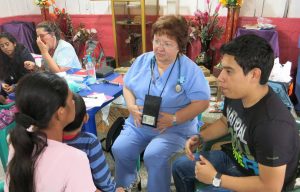 The administrative staff at ICAP had long dreamed of establishing a school of nursing that would nurses to work in the remote villages. As a result of this trip, the reality of a professional nursing school at ICAP began to emerge. When Duane returned home, he contacted Dr. Phil Hunt to discuss the need for a nursing school in Guatemala. Dr. Hunt is the former Dean of Nursing at Southern Adventist University and serves as a consultant for international Adventist nursing school development. He volunteered to help establish this much needed nursing program. After much work and submission of data to the University of San Carlos in Guatemala City, in August of 2013 ICAP was granted authorization from the Guatemalan government to offer a three-year technical nursing program, with a specialty focus on rural nursing. ICAP was also granted permission to offer the fourth and fifth years of professional nursing training, which would allow the nursing students to gain additional education and experience in diagnosing and treating individuals and families while earning their baccalaureate degree in nursing and a certificate in rural health nursing. After much prayer, the unheard of happened. The Guatemalan government approved the rural emphasis school of nursing within six months.
ICAP is the only private institution in Guatemala to receive governmental permission to offer the rural health nursing program. This approval was granted because of the excellent reputation of the school and its graduates. Prospective students who have been unable to obtain higher education because of Sabbath classes and testing are eagerly awaiting the opportunity to attend a Seventh-day Adventist school of nursing in Guatemala. Graduates from the ICAP School of Nursing will positively impact the health status of many people in rural Guatemala where there are currently no healthcare providers or services.
God is leading in marvelous ways by opening doors for ICAP to receive this approval from the Guatemalan government in such a short period of time, as well as in providing a qualified and experienced Adventist nursing educator to lead out in the development and implementation of the program. The first class of nursing students will begin attending classes in January 2015 in a temporary nursing facility that is a multi-purpose building with dormitory rooms, classroom, and a skills laboratory. A Nashville, Tennessee, architect volunteered his time and expertise to develop plans for the permanent nursing complex structures. The building project consists of three buildings with a total of 15,000 square feet. The projected costs are $500,000. Labor costs will be kept low through the use of school staff, students, and Mission Guatemala volunteers. Other mission minded church groups and individuals are encouraged to join with the Mission Guatemala teams to help make a significant change for the people of Guatemala.
We are looking forward to meeting many people in heaven who would not be there except for the contacts made through dedicated nursing staff, introducing them to our loving heavenly Father via meeting their individual, family, and community health needs. What would you attempt for God if you knew that you could not fail?