ASI Members in Action
From the Desk to the Front Door
Debbie Battin Sasser
03/24/2016
In 1988 Ouachita Hills Academy (OHA) was established on 381 acres of beautiful country landscape in Amity, Arkansas. The peaceful setting encourages students to focus on their Christian walk while learning valuable skills and methods for soul-winning. "While a student there, I was encouraged and empowered to be active in service at an early and critical stage in my life," says alumnus Israel Ramos.
Out of the academy, Ouachita Hills College (OHC) was born. In 2003, college classes began with 31 students in attendance. "It is our goal to equip students to be active soul winners regardless of their chosen profession," says Chester Clark III, OHA and OHC Bible teacher and development director. Associate and bachelor degrees are offered in evangelism, Christian media, Biblical studies, theology, elementary education, and secondary Christian education, with a variety of minors available including biology, chemistry, English, and business.
Cultivating God's Garden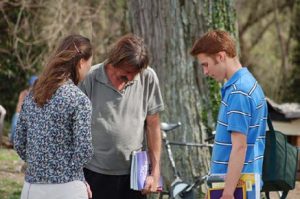 Students have the opportunity to earn most of their tuition expenses through the literature evangelism (LE) program. "Each semester, our students spend two or three intensive weeks canvassing," says Chester. Students canvass in areas where they are invited to help prepare for upcoming evangelistic meetings. "As they are making sales of Christian literature, they find people who are interested in Bible studies." More than 170,000 doors are knocked on by these students each year with more than 1,300 boxes of literature distributed during these contacts.
The Maga-Books they sell were originally developed through a project by ASI. These glossy-cover, thin paperback books were designed to be mass-produced cost effectively, to enable students to earn some money selling them door-to-door. He Taught Love – a beautifully illustrated edition of Christ's Object Lessons – was the first Maga-Book published.
Many of the contacts students make while conducting LE campaigns in the nearby university town of Arkadelphia have been seeds that have germinated into a church plant there. Over the past two years, the OHC student-led group has grown to about 25–40 people meeting every Sabbath morning. They have outgrown their rented facilities twice, and would like to build or buy and church eventually, but are still waiting to see how God will provide. "This has been one of the most dynamic and energizing outreach experiences that our students have been involved in," says Chester.
A weekly Bible study on the campus of the state university in Arkadelphia has seen regular baptisms. OHC students rented a booth space during a community fair on the campus of the Baptist university in Arkadelpha, as well as at the fair held on the state college campus. They held a free drawing and gave away final-events DVDs. "They offered Bible studies, and asked people to sign up if they were interested in joining their weekly Bible study group," says Chester. "They are quite innovative and bold in the way they have approached these universities."
The church plant has a growing ministry to foreign students in the Arkadelphia universities, too. "There are students from countries where it wouldn't be possible to go as missionaries, so we are praying that some will be converted and will reach out to their families and communities when they go back home," says Chester.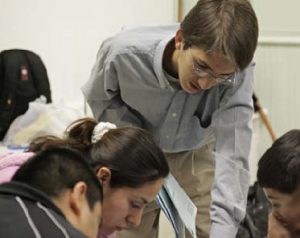 Children are a large part of the church plant's ministry. Recently on a Sabbath morning, OHC student Janalin Johns was studying with the children the story of Mary washing Jesus' feet. "Today we are going to learn about someone that loved Jesus very much," she began. Elias, a five-year-old whose parents, Flaviu and Joann, are preparing for baptism, raised his hand: "It's me! It's me!"
The principle of discipleship modeled by Jesus can often be seen as the students work. "The pattern of canvassing contacts, taking studies and becoming evangelists to their friends and family is just what OHC hopes will become standard," says Eugene Prewitt, the college's LE director. One woman, Jennifer, purchased books, signed up for Bible studies, and has just completed a second set of Bible lessons. Now her mother, sister, and daughter are all attending the local church. Jennifer's mother recently began making plans to share the Sabbath truth with her son.
Once a year, the students canvass in the local area, which may seem ineffective over the course of several years. However, the students have found welcoming faces at most doors, and many are happy to see the students again and again. "One man told the student at the door: 'I already have that book, but I have been waiting for you to come back. Come, show me what else you have,'" says Chester. "When canvassing is done correctly, you don't simply use the territory as you go over it, but cultivate and improve it."
Training the Harvesters
Mission trips are a vital part of education and ministry at Ouachita Hills. "Our goal is to inspire our young people to have a love for reaching out to others," says Chester. "When youth experience just once what it means to be used by God to touch another soul for eternity, they are changed forever."
Since 1998, every academy senior class has chosen a part of the world in which to do evangelistic mission work. During the school year, OHA students occasionally go on short mission trips to complete a building project. But the senior trip always involves evangelism. Throughout the past ten years, efforts by students have reaped more than five thousand baptisms around the world. "Part of our senior year curriculum covers in-depth study of the Adventist church's teachings—in a format that shows them how to give Bible studies, and how to defend doctrines biblically," says Chester.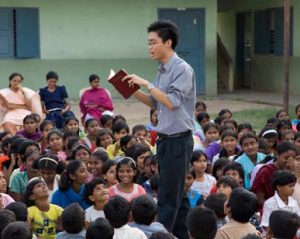 The mission trips give them practical experience through conducting a multimedia evangelistic series with New Beginnings DVDs, doing visitation, giving Bible studies, and leading people to make decisions for Christ. The New Beginnings program was developed by It Is Written and ASI. It includes 26 presentations, meant to be used for 2-week evangelistic campaigns.
During the 2007 senior mission trip, the youth found a slightly different, new challenge. "We were encouraged by the General Conference leadership to put energy into nurturing new believers in India," says Chester. "We worked with more than a thousand lay members in India." These church members were trained in personal spirituality, how to study the Bible, the importance of prayer, the role of the Holy Spirit, how to give Bible studies, and how to use the New Beginnings DVDs. The Ouachita Hills project was part of the Train Them Now effort led by ASI. More than 700 lay people in India were equipped with DVD players, sermon materials, and the DVD sets. "In the first four months following the training, more than two thousand baptisms were gained by these lay people," says Chester.
Ouachita Hills is raising up leaders who are committed to Jesus Christ and the authority of His Word. "It was on my senior mission trip to the Philippines that I caught a vision for and a love of evangelism," says Jason Sliger, an alumnus who currently works for Amazing Facts. The educational program at OHA and OHC focuses on training youth to build a personal foundation of faith, and then share all they know and love with others—locally and around the world. "What the young people want is not entertainment, but a sense of being useful and making a difference for God," says Chester. "Mission trips are an opportunity for young people to see that there is nothing more exciting than giving of themselves and impacting lives for eternity."