Joining the Family
From Pew Christian to Passionate Christian
Michael James Tuazon
08/30/2008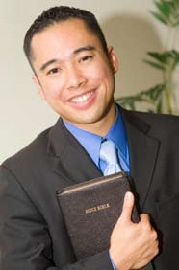 I first heard about ASI when a businessman came and spoke at a local church here in Southern California. He shared a testimony from an individual who made a million-dollar pledge, not knowing how he was going to get the money yet having full confidence God would deliver.
The story gripped me because of my passion for finance and my desire to succeed in the business realm. I was moved because it had never occurred to me to live my entire life—including money and time—for the Lord. I thought it was good enough to be a "pew Christian" and that by giving my tithe and offering I was fulfilling my "Christian duty".
Unfortunately, I did not give my heart to the Lord that day, or even that year. Through hard work, good grades and sheer determination I found myself working for a Fortune 500 company in North Hollywood. I was on the fast track to be a future executive with the company. In addition, I was a member of one of the foremost business fraternities in the country, while serving as vice president of a top internship network.
Though I had accomplished much at a young age and had a promising career, I wasn't happy. No matter what I accomplished, obtained or won, nothing filled the void in my heart.
Through a chain of miraculous events, I gave my heart to the Lord six years ago and pledged myself to unreservedly pursue his leading in my life. Following God has not always been easy. There were times when I received ridicule for standing up for the Sabbath or my "different diet". However, the very people who were making fun of my beliefs at work were all laid off when the company went through a financial restructuring.
I am now the Director of Operations for N-Star Development, a builder in Southern California. I've been able to "Share Christ in the Marketplace" through having a Bible study with the president of the company. In fact, when we were struggling financially, the president asked me to lead out in a short devotional reading and prayer.
I have also given my time to the Lord by leading different ministries, including The Josiah Ministry, a 501 (c)(3) non-profit corporation that helps various small-scale ministries—including Audio Verse and the regional Generation of Youth for Christ— accept donations. I also serve as assistant to the president of Generation of Youth for Christ and am director of Finish the Work Ministries, the revival and evangelism arm of the ASI Pacific Union chapter.
For me, ASI has meant so much. It has provided me with a forum to meet, pray and find counsel with other members. People who share the same desire to be lights to this dark world, to use their influence, money, and talents to do all they can to see Jesus Christ.
Would you like to join ASI? You are warmly invited to be a part of Sharing Christ in the Marketplace. Membership information can be found online at www.ASIministries.org, or by calling 301-680-6450.