Members in Action
Door-to-door In Dunsmuir
Patti Guthrie
01/20/2010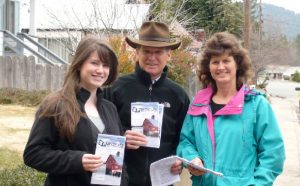 Last December, our family went out to eat in a little restaurant in the small town of Dunsmuir, ten miles south of where we live in Mt. Shasta, California. While waiting for the restaurant to open, we decided to drive around and explore the town.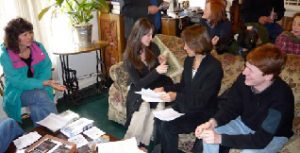 Dunsmuir, once a thriving railroad town, has a population of about 2,000. It has many older homes built close together along a river and against mountain canyon walls on either side of the river, with Interstate 5 bordering its west side.
When we'd lived in North Carolina, our personal ministries director had initiated a Sabbath afternoon door-to-door health literature distribution program to homes in our church's district. We'd gotten a taste of door-to-door work through that program, and a seed was planted.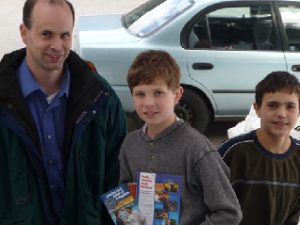 Later over dinner, we started thinking: Dunsmuir has no Adventist church presence. A couple of members from our Mt. Shasta church live in Dunsmuir, but our church has never really made a special effort to reach the people there.
Our 14-year-old daughter Melissa said, "We need to go door-to-door in this town!"
We all agreed. But when? How? It was almost Christmas, and we were headed for winter, which typically brings heavy storms and lots of snow.
In January, our pastor asked our prayer meeting group to read The Radical Prayer by Derek Morris, pastor of the Forest Lake Seventh-day Adventist Church in Florida. In the book, Morris emphasizes over and over the need to pray for laborers. It was the perfect set-up.
I asked the prayer meeting group, "What would you think about applying what we're reading in our community?" Then we shared our idea about reaching Dunsmuir. The group agreed.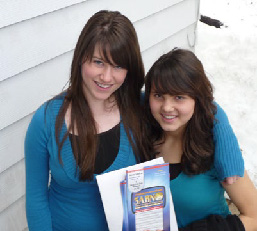 The next Sabbath, we took the idea to the rest of the church with a door-to-door ministry demonstration during the announcement period. Then we announced the plan to go door-to-door in Dunsmuir that afternoon, and invited everyone to come.
Our church isn't big. There were probably only 40 or 50 people attending church that day. But 16 people showed up that afternoon in Dunsmuir!
First, we practiced our approach. Since 3ABN is broadcast locally via Better Life Television Network, we decided the most natural thing would be to say "Hello. My name is Patti, and this is ____. We're here on behalf of Better Life Television Network. Do you watch the Better Life TV station in this area?"
If they answered yes, then we would ask what programs they watched. If they said no, then we would tell them about the inspirational programming offered on 3ABN via Better Life TV. Either way, we'd give them a Better Life TV program guide. We'd leave a 3ABN door hanger at homes where no one answered.
After the brief orientation, we divided into teams of two or three and gave each team a set of 3ABN door hangers, Better Life program guides, and other literature to distribute. Young people were paired with adults, and drivers had maps with designated territories. We prayed for God's blessing and departed.
Two hours later, we met back at a Dunsmuir church member's home and shared testimonies. Some had prayed with people; others had discovered Bible study interests; still others had discovered that some people were watching 3ABN on Better Life TV. We prayed together and went home.
The next Sabbath, several team members shared their testimonies from the previous Sabbath with our church family, and we announced that we would meet again that afternoon in Dunsmuir. More people showed up this time, and more contacts were made.
By the end of five consecutive Sabbaths, our door-to-door group had grown to 31, and we had knocked on every available door in town. We'd discovered former Adventists in Dunsmuir and met people who were interested in learning how to live more healthfully. Many had concerns about the future or about family issues. Some were experiencing grief due to major loss. Others were facing jail terms, serious illness or financial troubles. Some who watch 3ABN had already been convicted about the Sabbath and Jesus' soon coming.
One teenage boy dressed in black clothing and chains told me he is a god who creates reality in his own head. I told him about the Creator God of the universe who made him and loves him very much. Later I met his mom, and she was more open to spiritual things. I prayed he too would open his heart.
We gathered the names and contacts into a database and began follow-up programs: Bible studies; free community dinners at the Dunsmuir Community Center; a seminar on the book of Daniel by James Rafferty; more Sabbath afternoon visits with those on our interest list; and a vegetarian cooking class.
We continue to enroll new people in home Bible studies as a result of our initial contacts, and our church board has voted to hire a Bible worker to help work with those who are interested in Bible studies. We've had many opportunities to sing and pray with people in their homes.
One man, who initially tried to cut me off when I spoke, suddenly became interested when I mentioned Doug Batchelor's name in connection with the Bible studies we were offering. He had just heard about Doug Batchelor and decided he'd like to receive the studies after all. He has received the first twelve lessons so far, and we are praying that his interest will continue.
Our next project will be to offer a stop-smoking class for those who are interested in quitting. We'd also like to hold a children's program and an evangelistic series, but still find ourselves much involved in the seedsowing and cultivation phases.
The young people particularly enjoyed going doorto-door. Our daughter Melissa spent Monday nights last summer studying with a lady she met in Dunsmuir.
One 11-year-old girl told me that, if Sabbaths were always like this, she would never dread Sabbath again! Then she asked why I don't get upset when people say "No" at the door. I explained that angels go ahead of us, preparing people at each house for our visit. Some might not yet be ready, but the Lord is still working in their lives.
Several non-Adventists, some we'd met only once or twice, joined us in our door-todoor outreach and were really excited about it. We continue to pray for them, and we have longterm plans to conduct similar programs in other towns with no Adventist presence.
We told our story at the Better Life TV camp meeting in Oregon and volunteered to help others start door-to-door programs in their own communities. We shared that experience is gained through action, and that going two-by-two allows more experienced workers to mentor those with less experience. So far, two churches have invited us to come.
As humans, we are naturally self-centered, but reaching out to save others can be God's means of saving us from our own selfishness. Sometimes it's easier to go on a short-term mission trip to a foreign land than to be a missionary every day, right where we live.
Personally, we are eager for our four teenage children to develop their own personal walk with God. Our work in Dunsmuir turned out to be an excellent way to channel the abundant energies of our young people into a faith-filled adventure with the Lord. It has also drawn us closer as a family.
Since we began attending ASI conventions in 1999, ASI has instilled in us a sense of obligation and privilege with regard to living and sharing our message every day and everywhere. We are not "one-day-in-seven" Adventists. Our message permeates every aspect of our lives and drives us to pray for opportunities to share Christ in our workplace, in our communities, in our church, and at home. There is no greater joy.