Tampa Convention Recap
By Knowing Him
Steve Hamstra
08/30/2008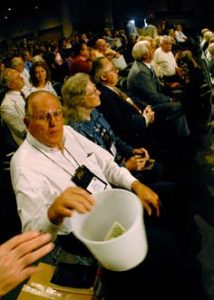 God truly blessed the 61st annual ASI Convention, held this year in Tampa, Florida. Themed "By Knowing Him", the convention emphasized how people motivated by a personal, loving relationship with Jesus Christ can impact the world for eternity.
Beginning Wednesday evening, August 6, and ending Sabbath, August 9, ASI Convention was attended by more than 2,500 people, including 500 young people. Three Angels Broadcasting Network provided live television coverage.
A full schedule included nine main meetings, 20 seminars under five different themes, and complete programs for children and youth.
A highlight at convention each year is the ASI Special Projects Offering, and this year the offering supported 41 projects chosen from approximately 100 submitted to ASI. Every dollar given to the ASI offering will go directly to the designated projects.
A wide variety of undertakings and locations made up the 2008 projects. A large number were construction projects, including a new facility for Better Life Television in southern Oregon, a Gospel Outreach church building in China, and a renovation effort at the VitaSalus lifestyle center in Portugal. There were also evangelism, archaeology, lay outreach, and media projects.
Electrifying the convention, however, was the One-Day Church project. A joint effort between ASI and Maranatha Volunteers International, the One-Day Church will provide cost-effective, well-built churches to "homeless" Adventist congregations around the world. It is a galvanized steel frame and vented roof that can be easily assembled by four people in just one day. The recipient congregation will be responsible to finish the walls and interior.
A full-size One-Day Church was on display in the exhibit hall at ASI Convention, and a smaller scale model was on stage in the meeting hall.
During the Sabbath morning worship service, an appeal was made for the Special Projects Offering. Included in that appeal was a presentation about the One-Day Church and a dedication of the project by world church President Jan Paulsen and North American Division President Don Schneider.
The response was overwhelming; an offering of $8,034,672 was pledged, more than quadruple the 2007 offering. "It's just fantastic," said a beaming Dwight Hilderbrandt, then the interim ASI secretary-treasurer. "This year's offering was about evangelism and building churches, schools, etc. And the people really caught the vision and got behind it."
During the Friday evening meeting a special presentation was made about Youth for Jesus (YFJ). An ASI-sponsored youth evangelism program, YFJ reaches out to the community where the ASI convention is to be held each year. All told, 52 youth participated along with 19 Bible workers. And from their efforts, 103 people chose to keep the Sabbath, and 94 requested baptism.
YFJ shared the spotlight Friday evening with the ASI Convention children's and youth programs. As previously mentioned, some 500 young people attended the convention, and they enjoyed a full slate of worships, creative crafts, off-site projects, and more. On stage Friday evening the young people sang songs, shared what they'd learned in their programs, and talked about their projects.
Toward the end of the convention, Ron Oxentenko, from Pensacola, Florida shared with ASI how happy he was with what his children had learned in their meetings, the good friends they were making, and all the new songs they were singing. And he wasn't the only parent to comment on the quality of the ASI children's and youth programs.
Train Them Now, a project to train and equip lay people worldwide for New Beginnings DVDbased evangelism, has been a major focus for ASI in recent years. And the project received part of this year's convention offering.
Sabbath morning, ASI vice president for evangelism Viorel Catarama, together with Denzil McNeilus and Dwight Hilderbrandt, presented the latest information about Train Them Now. In the eight years since the project began, 19,000 people have been trained; they have in turn held more than 100,000 evangelistic meetings in their communities, resulting in hundreds of thousands of baptisms. In fact, an estimated 135,000 people have been baptized just from DVD-based evangelistic meetings held by young people.
Looking ahead, Train Them Now has ambitious plans, with more than 50 training sessions planned in 40 countries just through the first quarter of 2009.
To emphasize and encourage DVD-based evangelism, Sabbath morning attendees received a special ASI Convention edition of the New Beginnings DVD, providing them with an attractive, user-friendly means to become evangelists in their communities. "This DVD in the hands of a consecrated lay person is a powerful tool for evangelism here in North America," said Mark Finley as the DVDs were distributed.
Around the globe ASI organizations are being formed in numerous countries, under the world divisions of the Adventist church. A special focus at convention was placed on these international ASI organizations, and attendees were told of the wonderful work being done by their ASI brothers and sisters around the world.
Examples include a massive evangelism effort by ASI Europe that aims to bring five million people into the Adventist church in 15 years, and a highly effective prison ministry being conducted by ASI Kenya.
Testimonies from ASI members are a part of every ASI Convention, and this year a wide range of active lay people were highlighted. Among them were Manuel and Esther Alva, physicians in Illinois who have launched a church group that meets each Sabbath in their waiting room, and Volker Schmidt, a businessman from Kentucky who does door-to-door outreach with his granddaughter.
A major goal of ASI convention is to encourage lay people to get involved. Many attendees shared the enthusiasm of April Tracy from Glasgow, Kentucky, who said, "There are so many projects I'd like to help with!" She explained how ASI Convention excited her about missions and motivated her to look for ways to be active in outreach.
Asked if she enjoyed the convention, April replied with a big smile, "I called my granddaughter and told her, 'Next year you're coming with me.'"
"This is a campmeeting on steroids run by the Swiss," said Mark Ranzinger from Berrien Springs, Michigan. "It's just fantastic," he continued, "the people here want to turn their five talents into 15 talents."
Then there's Kyle Tumberg. He and his wife spent their honeymoon at ASI Convention. "And," he glowed, "I don't regret it!"