Youth on the Move
ASI Youth on the Move
ASI Staff
03/31/2008
The Mid-America Union ASI chapter has sponsored Youth for Jesus evangelism programs at two schools, Maplewood Academy (a 9-12 boarding school), and Minnetonka Christian Academy (a K-12 day school). The two student-led programs are modeled after the Youth for Jesus campaign held every summer in the ASI convention city.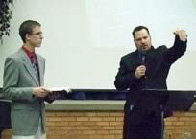 Minnetonka's Youth for Jesus ran from March 7 to April 4. The Maplewood campaign was completed on March 8, and resulted in 41 people making a decision to follow Christ.
Some remarkable stories have come about through these campaigns. Kevin Sears, Youth for Jesus coordinator, shares the story of Yesenia. While going door-to-door, Kevin met Yesenia, who confessed that she had made a commitment to begin studying the Bible with her four children. "'I told God I would begin teaching my kids the Bible,'" she later told Kevin, "'but have procrastinated. Then Saturday morning I repented and told God I would begin teaching my kids as I had promised, and then you guys showed up that afternoon.'" Yesenia and her children began Bible studies and have also started attending church.
There's also the story of Julius, who was so nervous about giving his first Bible study it made him sick. But the Lord worked through Julius, and the people he studied with earnestly sought the truth. After leaving the Bible study, Julius was jumping up and down with the biggest grin on his face.
Julius was also one of the students who presented sermons as part of the campaign. The first person to discover Biblical truth from his sermons was Julius himself, for he was a Catholic. Julius was baptized during the Youth for Jesus campaign, and his brother made the same commitment the following week.
The Lord has richly blessed the Mid-America Youth for Jesus programs and the "Finish the Work" team in the Pacific Union. Your prayers for those who have heard and believed, for those who heard and have not yet believed, and for the young people who participated are greatly appreciated.