Feature
Equipping Cuba: ASI Teamwork Energizes Cuban Laity
ASI Staff
08/30/2010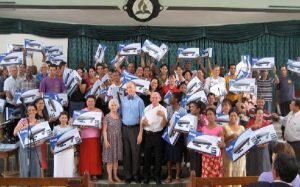 In the spring of 2009, two ASI teams headed to Cuba to train and equip more than 1,000 people in six different cities to do lay evangelism using the New Beginnings DVD series. The teams' mission was simple: to convince people that all are called to share Jesus with others, and to train them to use the New Beginnings materials while responding to the guidance of the Holy Spirit.
Ray Hamblin, Harold Lance, Dwight Hilderbrandt and Ruben Dias went to Havana, Santiago de Cuba and Camaguey. Denzil McNeilus and Ramon Chow covered Pinar del Rio, Bayamo and Santa Clara. The biggest challenge was finding enough DVD players for all the trainees, since only one unit could be purchased at a time in the government-run stores—and then only when units were in stock.
Theirs was not a groundbreaking effort. They built on groundwork previously laid in Cuba by other teams who'd gone before them. In March 2007, Ray Hamblin and Harold Lance had conducted a 24-meeting ShareHim series in the Fomento Church in Santiago. They arrived on the heels of ten Bible workers who had already worked the area for six months. Approximately 125 new members were baptized as a result of that effort. Hamblin and Lance introduced church leaders and members to the New Beginnings DVD series using players they'd brought with them. DVD players could not be purchased in Cuba at that time.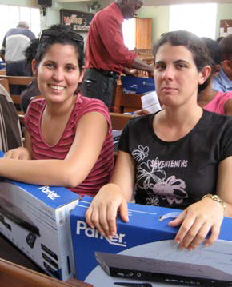 Harvey Miller and Lester Burks had conducted concurrent ShareHim meetings at the Central Church in the Santiago de Cuba area. The efforts of these ASI lay evangelism teams prepared the way for Pastors Mark Finley and Alejandro Bullon to hold a larger scale evangelistic series in 2008, which was very well received. Mark Finley urged ASI leaders to continue the work in Cuba, which led to the two-team, six-city effort in 2009.
Local churches and conferences selected the laypersons who attended the 2009 training events. The attendees set aside their work to spend a day learning how to use the New Beginnings DVD program in small-group settings. Many more people attended the training than were selected, and interest ran high. It was evident that Cuban church leaders and members had a hunger to share the gospel with their neighbors and friends. Each trainee promised to conduct three series of meetings each year and not to use the DVD players for any secular purpose.
This spring, a new team returned to Cuba to do follow-up training and to hear live reports of what has happened over the past year. They discovered that approximately 7,000 people have been studying in small groups across Cuba since 2009, and more than 1,000 people have been baptized. They trained an additional 800 layworkers to use both the New Beginnings and Abundant Life DVD series.
The 2010 team once again included Ray Hamblin, Harold Lance, Ramon Chow, Dwight Hilderbrandt and Ruben Diaz. They were joined by Randy Bivens, Carlos Antunes, ASI president Norman Reitz and his wife, Gail. The team went armed with hundreds of DVD players and copies of New Beginnings and Abundant Life DVDs to leave with the trainees.
A gentleman who had attended prior meetings returned this year with his wife. She wanted training and her own DVD player. She had watched her husband hold meetings in their town, resulting in 17 baptisms. She had since resigned her job as a physician to devote herself to full-time evangelism.
"Cubans are experiencing a period of religious tolerance, and the people are anxious to hear and receive the Word of God," says ASI secretary-treasurer Ramon Chow, who has visited Cuba three times.
The president of the Cuban Union told Chow, "We have always encouraged our laypersons to do more outreach. Now we are not only telling them to go, but we are also giving them the tools they need to be successful. This has brought new life to the church in Cuba."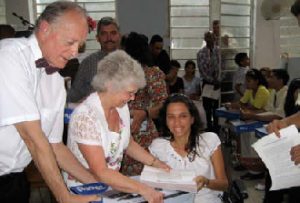 This is significant, because many Cubans still spend their days figuring out how and where they will get their next meal. Their lives are not easy, and yet they are happy, friendly and anxious to work with the ASI teams who visit, often mitigating their "hardships" with jokes and good humor, according to Chow.
Physician Randy Bivens was invited by Harold Lance to join the 2010 team because of his health expertise, which would bolster the Abundant Life DVD training. Using his skills as both physician and health communicator, Bivens shared with the Cuban laity the value of using health as an entering wedge to reach people with the gospel, as well as to meet their physical needs by teaching them better health practices.
"I just feel privileged to have worked with this great group of people, most of whom are or have been leaders of ASI," says Bivens.
Ruben Dias, president of ASI Portugal, arranged this year's training meetings in cooperation with church, conference and union leadership. ASI Europe provided funding for the equipment and scripts. Each ASI trainer personally paid his or her own travel and personal costs—a sacrifice regretted by none.
Plans are being made to return on behalf of those who did not receive equipment or could not participate in the hands-on practice afforded officially selected trainees. The Cuban churches have been energized, and local pastors are now working to keep up with their growing congregations.