Feature
An American Girl in Hungary
Aubrey Seiler
01/20/2010
Thinking back over good times is like looking at the stars. The more you look for them, the more you find. As I write, my mind overflows with memories of the wonderful events I experienced over the past few months. One of the most unexpected of these events was my trip to Hungary…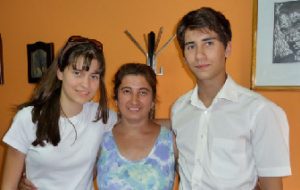 Two years ago, three youth from Hungary attended the Youth For Jesus program in Tampa. I became good friends with them and kept in touch after YFJ was over. Their dream was to start a Youth For Jesus program in Hungary, and they wanted me to help. Our family originally planned to go, but later decided it was too great an expense, so we gave up the idea.
God had different plans, however. After serving for an entire month as a speaker for the YFJ Phoenix program, I thought my summer experiences were over. But on the last day of the ASI convention, Leasa Hodges, the YFJ coordinator, handed my mom and me plane tickets to Budapest.
I barely had enough time to get home, do laundry, and pack my backpack. In spite of my fear of flying, I survived the trip "across the drink" with prayers from my friends and family. Eighteen hours after leaving Dallas, we arrived in Budapest, Hungary, and then drove to Hódmezövásárhely.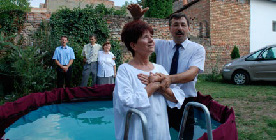 What a beautiful country Hungary is! The area we visited is mainly agrarian, with fields of sunflowers and corn, unique architecture, quaint little villages, and the effects of medieval feudalism still visible in the countryside.
We reached the church at twilight, right after the meeting had finished. Everyone had gathered in the church courtyard for a light supper. The church lights cast a warm glow over the group, and the spiciness of a foreign culture permeated the air. The Hungarian youth who had attended YFJ in Tampa greeted us with excitement.
After introductions, the YFJ youth took us to see fireworks in the town square and to celebrate Hungarian Independence Day. In Hungary, August 20 is sort of like our Fourth of July.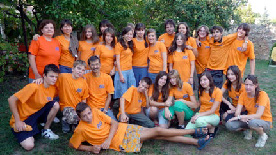 By the time we reached our room, it was past 11:00 p.m. I had been awake for almost 35 hours, with only short naps here and there. Apparently, that had effectively killed my jetlag, and I didn't suffer from the time change.
The Hungarian people were so kind, and I especially fell in love with the children. Soon after I arrived, they decided I needed to learn the language. I quickly found myself surrounded by a beautiful group of kids, all trying to teach me Hungarian. I tried my best to pronounce the words, but failed miserably, much to the amusement of my "teachers." It was the perfect icebreaker!
The language barrier made it difficult to get to know the other YFJ youth, but smiles and gestures go a long way. Fortunately, several of them knew English and were very helpful as translators. By the end of our visit, my mom and I felt like we were leaving family.
Hungarian hospitality is second to none, and our hosts, the Köszegi family, topped that! On Sundays, they took us on tours of their region of Hungary. We got to cross into Romania, tour the Hungarian towns of Szeged and Hódmez¨ovásárhely, and learn more about Hungary's history at Oposztaszer, an outdoor educational center.
We enjoyed delicious meals during our stay. I even learned to eat paprika (red bell pepper) and cucumbers for breakfast. Grapes, cantaloupe, peaches, watermelon, and plums graced our table at almost every meal. Hungarian produce has incredible flavor. It made me long to know what food will taste like in heaven!
Although I was there mostly to give encouragement and support, I did give a health talk one evening that my dad had helped me prepare before I left. András, my translator, and I had a lot of fun giving the talk, and unbeknownst to us, attending that night was a radio talk show host who ended up loving the presentation. She asked if we would be willing to give it on the radio.
A few days later, we found ourselves in a Hungarian radio studio. The host had been very inspired by the presentation and the witness of the YFJ youth, and she asked many questions. As we left, we gave her a Bible and a copy of The Desire of Ages. I may never know what God plans to do in that lady's life, but I was privileged to help plant seeds in her heart.
On five minutes' notice, I also taught a class to the YFJ group. With little time to prepare, I grabbed some notes from a YFJ class I'd taken in Tampa. The topic was "The Dangers of Hollywood." I'm not too familiar with popular entertainers. Several times I asked my audience whether they knew the entertainers' names I was talking about. They looked at me as if I had just stepped off of Mars when I told them the names were new to me.
When I finished, the pastor asked me to share my own view on Hollywood and the media since I was unfamiliar with the entertainers I'd mentioned. I was able to share with them how my parents raised me, and tell them of my decision during YFJ Tampa to stop watching TV and movies. I encouraged them that it was possible for them to do the same. I don't know what they thought, but I pray that God used me to open their eyes to the dangers of the entertainment world.
Sabbath, August 30, was our last day at YFJ Hungary. That afternoon, five beautiful souls were baptized: Zsolti and Kriszti, both YFJers, and Erika and Peti, a mother and son from Budapest.
And then there was Margó, a woman from the village of Hódmezövásárhely. She is one of the sweetest ladies I've ever known. She developed a special relationship with the YFJers while preparing meals and cleaning up afterwards. She was so responsive to the messages she heard. A few days after hearing a talk about the dangers of adornment, she removed all of her jewelry. I realized like never before that nothing makes a person quite as beautiful as the love of Jesus. Margó glowed with happiness, especially when she was baptized.
Heaven was the topic of the last meeting on Saturday night. I listened with sadness and joy, knowing that I might never again see some of my new Hungarian friends on this earth. My heart longs more than ever for all of us to be finally "home."
My prayer for my YFJ friends around the world is summed up in the words of a beautiful song: "Meet me in heaven. We'll sing songs together. Meet me at the Savior's side. I'll meet you in heaven. We'll join hands together. Brother and sister, I'll be there… Pray that we all will be there."