ASI Project Report
A Simple Blessing
ASI Staff
08/30/2009
Traveling through Africa in the mid 1990s, a group of ASI leaders met a number of volunteer missionaries serving at supporting ministries across the continent. These volunteers came from the United States and other developed countries, and earned a tiny fraction of what they could have made at home. In fact, some could barely afford to buy food, much less things like postage stamps or even toilet paper.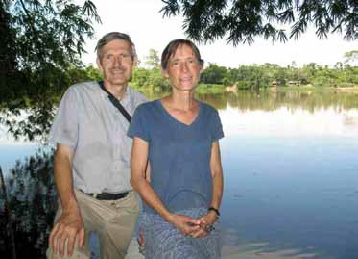 Touched by the missionaries' sacrifice and dedication, ASI created the Missionary Assistance Plan (MAP). Administered by Outpost Centers International (OCI), MAP would provide modest yet important monthly payments to volunteer missionaries around the world.
Currently, MAP payments are $300 per month for families and $150 for individuals. A third of each payment is retained for furlough expenses (most missionaries go home on furlough every three years). Altogether, 13 families and nine individuals are supported through MAP.
The bulk of MAP funds are raised through the ASI Convention offering. OCI is tasked with administering the MAP payments throughout the year, a service it provides free of charge.
Modest though they are, MAP payments provide volunteer missionaries with the stability needed for long-term service, and also provide for everyday needs. "The monthly MAP funds are a great blessing to my family and me," writes Barry Mosier, who serves with Congo Frontline Missions in the Democratic Republic of Congo. "Our local wage stipend can barely cover the food we consume," he adds.
Jacob Wayd and his family are missionaries in India, where they work with Living Springs Overseas Missions. "We have been here for two and a half years now," he writes. "There are so many obstacles we face, but this is one less burden on us. We have peace of mind and thus continue full force in our missionary work without wondering how our personal expenses will be met."
Edie Mulvihilll of Peru Projects describes how MAP funds allow her to cope with the rising price of various products in Peru. With her personal needs met, she is able to focus solely on sharing the gospel.
The ongoing support of MAP through the ASI Convention offering enables numerous missionaries to serve the Lord around the world. Some would simply be unable to continue in service without MAP payments. Thank you to everyone who has supported MAP through the ASI Convention offering.