Missions at Home Feature
A Hand Up
Emily Thomsen
08/30/2009
As caseworkers for the Georgia Department of Family and Children's Services, most people would probably believe they were doing enough to help out. Not Shawn Wray. Every day he saw people not getting all the help they needed, and he grew frustrated. "Shouldn't I be doing something that really makes a difference in people's lives?" he asked himself.
Soon enough his question was answered. "God impressed me to stop just going through the motions and to do something more proactive," he says. So on April 1, 2005, with the last $150 in his pocket, Shawn founded Think on These Things Ministries (3TM).
3TM provides food and other necessities to needy individuals and families. It is comprised of Shawn, two staff members, a four-member board and some 50 volunteers. They partner with more than 20 businesses and organizations—including Trader Joe's, the Furniture Bank of Metro Atlanta, Panera Bread and ACTS World Relief—to meet community needs.
Shawn's enthusiasm is contagious as he describes 3TM's ministry, which serves 15 different churches, a domestic violence shelter and an assisted living facility, in addition to individual requests. Shawn and his volunteers pick up food from local grocery stores up to four times a day. On Saturdays they provide food for as many as 125 people. During the week, United Way brings 3TM both food and clothing to distribute; sometimes there is even furniture to give away.
"When I first started I wanted to be all things to all people, but I quickly realized that was not the most effective way to run the ministry," Shawn says. "I don't think men were designed to multi-task!" he laughs. So Shawn is focusing on basic services for now, though he dreams of one day adding a thrift store, prison outreach and a child sponsorship program.
For its first three years 3TM was often viewed as just another social service organization. "People didn't really take us seriously," Shawn says. But when the economy started going south, "all of a sudden we became relevant and viable." It seems providential to Shawn that God nudged him to start 3TM in 2005 so that the ministry had three years to get established and prepared for what was just ahead. Since last year, Shawn says, "My needs have shot through the roof while donations have gone through the ground."
Many people feel embarrassed about asking for help, especially those who until recently have never needed help. 3TM staff and volunteers are very sensitive to this reality, and a high priority for Shawn is ensuring that people seeking assistance don't lose their sense of dignity.
Since the economic downturn, a surge of people Shawn calls "middle-class poor" are turning up at charity organizations around the country. These are middleclass individuals and families who find themselves in dire and unfamiliar straits after losing jobs and homes due to the downturn. Even some past 3TM donors have had to ask for help.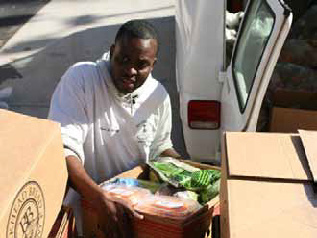 One couple 3TM assisted, a realtor and a nurse practitioner, has several rental and real estate properties and used to enjoy a large income. Now, however, the husband is searching for any work he can find and the wife recently got laid off. She came to Shawn, they prayed together, and she left with a supply of food. Another gentleman owns a lawn care business but hasn't had work since August. Though his wife is a nurse, he's had to divide their bills into "relevant" (mortgage and food) and "irrelevant" (car insurance, gas, new clothes). Getting food from 3TM stretches their nowmeager income that much further.
Gloria, who volunteers about ten hours a week sorting and distributing food, describes a different couple. The husband had lost his job and his wife wasn't working. "They wouldn't have been able to eat if not for 3TM," she says.
Another volunteer, Ron, says he's watched the lines grow longer since the economic downturn. Whereas 3TM fed about 120 people a week in 2005, around a thousand now depend on the weekly deliveries. And that number is growing.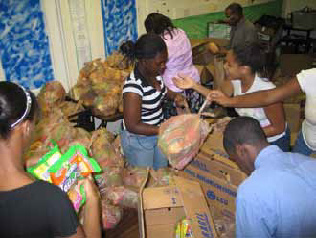 But God uses little to accomplish much at 3TM. "Shawn has done a very good job with the resources they have," says Uton, an elder and youth leader at Shawn's church, who has been involved with 3TM almost since its inception. "It reminds me of Gideon's 300-man army with which he defeated the Midianites," Shawn adds. "God sends me $2 instead of $200, and says, 'See what you can do with this!'" Since she started volunteering recently, Diane has seen as many as 25 families receive food in one day. "There is such a tremendous need," she says. "Sometimes people don't know where their next meal is coming from."
The economic downturn is hitting senior citizens particularly hard because they have no way of increasing their income. Many rely so heavily on 3TM that they call Shawn if he doesn't bring them food. "He does such a good job," says one senior, Sister Browning, who shares the food Shawn gives her with other people in need as well. Sister Browning is also famous for the rolls she makes to show her gratitude. "[Shawn's] encouragement gives me strength," she says. "It helps me to keep on keepin' on."
At the other end of the age spectrum, Shawn says he regularly watches parents neglect themselves in order to make sure their children are fed and cared for.
As with almost every entity, the downturn has produced a pinch in resources for 3TM. Not only have donations gone down, but fewer people are volunteering as well. "Folks are giving less money and less time," Shawn says. He's had to find new volunteers or bargain with the old ones for 20 or 30 minutes a week instead of an hour.
However, this shortage of funds and manpower doesn't get him down. "I found my purpose in 2005, and it's the greatest thing ever," he says, adding that it's impossible to put a price on the sincere gratitude of the people 3TM helps.
Whenever he and his volunteers give out food, Shawn says, people automatically ask, "Why do you do this?" Their questions open a door through which the 3TM team can introduce people to Jesus and the Seventh-day Adventist church.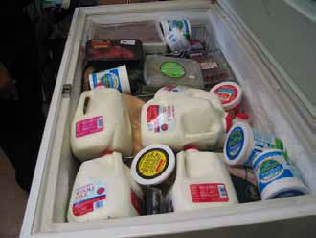 Recently, a man called 3TM on a Sunday afternoon asking for help. Within two hours he, his wife and their six children appeared at the door. The man had lost his job and they were running out of food. One of Shawn's church members had referred them to 3TM. As Shawn gave them some food, the man said, "I can tell you're doing this because you really care about us. I want to come to your church." True to his word, the next Sabbath the man came to church with his family.
"This is the kind of work God really wants us to be involved in. I'm proud of it," Uton says. "I see the gratitude on people's faces." Shawn adds, "We're not about giving a handout, we're about giving a hand up so that people don't have to keep coming back."
We often think of people half a world away when picturing those in need. But every day Shawn and the 3TM team see how many people right here in America are in desperate need. Before he started 3TM, Shawn says, "God kept telling me I could be doing more with my life. He's still telling me there are more people to reach. Sure, we're on a shoestring budget, but I think that's so I remember who is in charge. It's not me, it's God!"