ASI Project Report
Better Living Ministry (Mieux Vivre)
ASI Staff
08/30/2015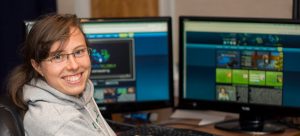 Better Living Ministry (Mieux Vivre) was founded in Québec, Canada, in 2009. Our goal is to produce culturally-sensitive radio and television programming in French. There are very few resources available in French, especially compared to the materials available in English or Spanish. Our programming has been aired on 3ABN, Hope Channel and is offered free of charge on our website.
Thanks to ASI and other supporters, Better Living Ministry launched a media training program designed to help young people to learn to use media to answer the Gospel Commission. Our first training program started in January 2014. We hit the ground running because we had just moved into a new facility when the training program started. The first thing the students learned was how to build a computer. They would use that computer a lot over the next year!
As the year progressed, students acquired skills such as operating a video camera, video editing, live production, script writing, set design, content delivery, website development, and graphic design for web, video, and print.
Our most ambitious project was producing 52 episodes of Conviction, a series designed for young people ages 18 to 25; 26 episodes were recorded in French and 26 episodes in English. Some of our students were even presenters in the series. Students quickly learned how much work is involved in video production.
Another large project we worked on was website development. We had the opportunity of building several websites where students learned the important aspects of harnessing the power of the web.
As we worked on projects together, we grew closer as a team. We had many opportunities to share spiritual thoughts in our daily group Bible study. We prayed for the angels to accompany us through the day, and we felt the presence of the Holy Spirit as we went about our daily activities. We saw the power of God touch young people's lives and inspire them to make a full commitment.
Our next media training program begins September 8, 2015. If you are a spiritually-minded young person who is passionate about serving God and has a keen interest in media ministry, we would love to have you join us. For more information, visit betterlivingministry.org.