ASI Chapter Reports
2014 ASI Chapter Meeting Reports
07/15/2014
ASI ATLANTIC UNION
The Holy Spirit blessed the group of 130 who gathered May 2-4 for the 2014 ASI Atlantic Union Convention in Newport, Rhode Island. The event attracted members and visitors from more than six conferences to hear speakers John Bradshaw and Ty Gibson share fresh perspectives on God's unfailing love and desire to free humankind from the bondage of this world. Chapter vice-president Peter Lombard said, "Members brought their passion for the Lord and commitment to supporting each other together in a faith-filled weekend." Funds of more than $41,000 were raised to support Project Steps to Christ and Tekoa Missions. With just 42 active members, the chapter will focus on introducing ASI to the Atlantic Union's 110,000 church members over the coming year, says chapter president Greg Perry.
ASI COLUMBIA UNION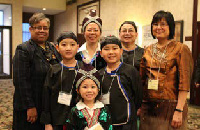 On April 17, ASI Columbia Union members arrived in Washington, D.C., hungry to engage in mission. This year's convention planning team had to create overflow space for the many attendees, including exhibitors eager to demonstrate God's direction in their ministries. Many were new ASI members or new member applicants. The theme of this year's convention, "Answering the Call," was inspired by Isaiah 6:8. Shalini David shared how God has guided Chrysalis ministry, which operates an orphanage in Uganda. Many attendees were impressed at the youthfulness and commitment of that ministry's leaders. On Sabbath morning, a Skype interview was conducted with leaders of King's Messengers, a prison ministry in Kenya, Africa, that has baptized more than 10,000 prisoners. MissionServe also unveiled its two-ton "Evolution" machine, which creates usable building materials out of construction rubble. Attendees were impressed with the energy and vision that seemed to pervade the air during the convention.
ASI LAKE UNION
"We prayed for the blessing of the Holy Spirit on every aspect of our Spring Fellowship, and the Lord did not disappoint us!" says Patty LaVanture, ASI Lake Union vice president for communication, concerning the ASI Lake Union regional convention held April 18 and 19 at the Crowne Plaza Hotel near the Grand Rapids, Michigan, airport. The theme, "Ultimate Surrender," was communicated in remarkably diverse ways by presenters that included Don Livesay, Lake Union president; Pastor Rodlie Ortiz, of Pioneer Memorial Church in Berrien Springs; and Dan Jackson, president of the North American Division. The meetings streamed live, thanks to ASI member Ray Young and a team from International Learning Systems, based in Berrien Springs, Michigan. Richard Aguilera, nature columnist for Guide magazine and founder of One Mustard Seed, Inc., a brand new ASI member ministry, led the children's program. The hotel staff said, "This is the nicest group we've ever serviced!"
ASI MID-AMERICA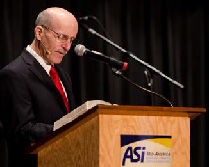 The 2014 ASI Mid-America Convention kicked off Thursday evening, March 27, at the John Knox Pavilion in Lee's Summit, Missouri, with welcome messages from ASI president Frank Fournier and ASI Mid-America president Jesse Johnson. While speaker Scott Ritsema gave a special presentation to more than 30 youth, approximately 200 people in the main auditorium were blessed by Doug Batchelor's opening presentation. On Sabbath, Doug Batchelor spoke to a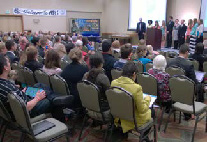 congregation of more than 1,200, with musical numbers by Voice of One, Markeeda Scott, Rachel Harlon, Claire Erickson, Jesse Johnson, and Joan Gurski. An amazing Sabbath afternoon concert series featured performances by Midland Academy Diversity, followed by the Samoan Youth Choir and SIFA African Choir. The event closed with Sabbath vespers. "A very special thanks to our local Pathfinders for providing three delicious meals," said Johnson. "We congratulate the Kansas City Adventist community for being a part of the largest ASI Mid-America Convention to date."
ASI NORTHWEST
The ASI Northwest Spring Convention was held May 2 to 4 at the Great Wolf Lodge in Grand Mound, Washington, featuring presentations by G. Edward Reid, past director of Stewardship for the North American Division, and Mihail Motzev, professor for the School of Business at Walla Walla University. Lay members, including chapter president Chuck Hagele of Project Patch, Frank Fournier of Eden Valley, Tom Sanford of Project Patch, and Ellen Butler of Butler Travel, also shared their experiences and perspectives. The Sabbath afternoon program featured performances by Daystar Academy's vocal and bell choirs from Castle Valley, Utah. The chapter raised money to help Young Disciple Ministry replace leaky tents for its youth camp, and to help Water For Life purchase Spanish Bible study guides for distribution by Bible workers in Guatemala.
ASI PACIFIC UNION
The Hyatt Regency, San Francisco Airport, was an unlikely spot for the powerful presence of God as members and supporters of ASI Pacific Union converged April 23 to 27 to hear speakers Don Mackintosh, Duane McKey, and John Bradshaw at the chapter's spring convention. Stories were told by tired but triumphant healthcare volunteers who had participated in Bridges to Health in San Francisco and Oakland just prior to the meetings (see page 18). Fountainview, Weimar, and Daystar Academies poured out songs of praise, and a series of offerings resulted in donations and pledges that ultimately reached the chapter's fundraising goal of $250,000. Those funds will support this year's Bridges to Health effort, as well as similar efforts in the future to provide medical services and spiritual hope to residents of inner cities.
ASI SOUTHERN UNION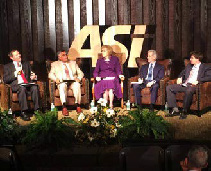 Nearly 400 people traveled to the Cohutta Springs (Ga.) Conference Center April 10 to 12 to hear Chris Holland, Frank Fournier, and other presenters at the ASI Southern Union Convention share biblical counsel on how and why we should be "Prepared to Stand" in these last days. The 21 Members in Action testimonies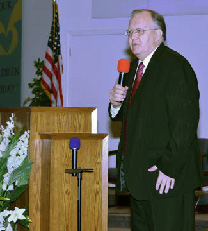 regarding outreach in Cuba, Kazakhstan, and Honduras moved attendees to tears. Record numbers remained after church on Sabbath to hear the EASEA Choir sing, and to listen to a panel discussion on how to help others be "prepared to stand." Panelists included Steve Dickman, Frank Fournier, and Jesse Zwiker, as well as Verlyne Starr, professor at Southern Adventist University, and Leslie Louis, president of the Carolina Conference. The group agreed that we must daily seek the Word if we wish to be prepared to stand against challenges unique to our times.
ASI SOUTHWESTERN UNION
The beautiful Scenic Hills Seventhday Adventist Church in San Antonio, Texas, was the site for the 2014 ASI Southwestern Union Spring Conference, held March 27 to 29. Approximately 40 members and many visitors gathered for networking and inspirational presentations. G. Edward Reid shared evidence of the Lord's soon return, and Grace Daley shared how she left her professional basketball career to become a teacher for the Lord. Pastor Duane McKey gave a brief history of the New Beginnings evangelism tool, as well as practical instructions on how to use it. Jaime Espinal, director of Centro Misionero de Salud in Galiana, Mexico, introduced a new medical evangelism program called, "I Want to be Healthy," which his ministry developed in conjunction with the Northern Mexico Union. Finally, North American Division president Dan Jackson emphasized the importance of unity and working together in spite of our differences in nationality, culture, education and background.